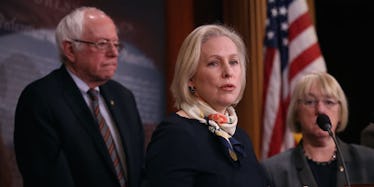 This Is What Senator Kirsten Gillibrand Wants You To Do About The Secret AHCA
Justin Sullivan/Getty Images
Senator Kirsten Gillibrand wants you to call your senator about the American Health Care Act (AHCA, aka Trumpcare).
"Because, to be honest, the only way anything ever works here in Washington is when regular people stand up and demand something change," Sen. Gillibrand tells me on Wednesday in a phone interview for Elite Daily about the ongoing health care debate.
You might not have heard that some Republicans in the Senate are working on their version of the AHCA, which would repeal and replace the Affordable Care Act (ACA, aka Obamacare).
That's because the 13 Republican senators working on the bill have not actually shown it to anyone — but they want a vote on it as early as next week. They say they plan to release the text on Thursday.
This has led to quite a bit of protesting from regular citizens, concerned organizations, and senators — both Democratic and Republican.
But protests are not happening just because the bill is being kept secret. They're happening because the bill could hurt a lot of people.
The AHCA passed in a narrow vote in the House in early May. But in late May, the non-partisan Congressional Budget Office (CBO) determined that this particular law would leave 23 million people without insurance by 2026.
Senator Bernie Sanders called it the "worst piece of legislation, by far, that I have seen in my lifetime."
Even Donald Trump called the plan "mean." I mean, the AHCA is the most unpopular piece of legislation considered by Congress in decades, and every single state disapproves of it according to research by The New York Times.
If all of this concerns you, you should call your senator.
I know, we say the same thing every time something concerning comes up, but these calls do matter.
Gillibrand goes further than just the calls, saying,
They should certainly call their representatives and call their senators. They should go to town halls. They should write letters to the editors. They should tweet about it, they should post on Facebook, post on Instagram. All of that matters. It's really about projecting your voice as far and wide as you possibly can.
Gillibrand adds that "at least three or four senators that are having real debates about whether they should vote for the bill," and calling could help sway their opinion. Those few votes could change the direction of the bill.
This is a sentiment shared by Cecile Richards, president of the Planned Parenthood Federation of America. During a press call last week, Richards said that senators "are all tracking phone calls that are coming in on this matter," so your call really can do something.
"There are several Republican senators who know this bill will be devastating for women in the state," Richards said. "They have to hear from [women]."
Although we don't know exactly what's included in the current version of the bill, the previous version is a frightening clue — especially for young women.
Gillibrand says,
If the bill looks anything like the House bill, Planned Parenthood may well be defunded. The Trumpcare version we've seen defunded Planned Parenthood for a year, which would likely force many clinics to shut down.
In Gillibrand's state of New York, there are 58 Planned Parenthood centers caring for more than 186,000 patients, so she's quite concerned.
There's also the question of what it would do for contraceptive coverage. Under Obamacare, contraceptives were fully covered by insurance plans. This was followed by a decrease in unintended pregnancies and abortions.
So there would be clear repercussions if that contraceptive coverage were lost with Trumpcare. Gillibrand says,
It just means there will be more unintended pregnancies and more abortions that could be avoided if they had access to contraception. That, I think, will harm young women.
Meanwhile, the House AHCA bill would roll back protections for people with pre-existing conditions. Gillibrand says,
To the extent young women have any issues in their backgrounds, they might not get access to insurance.
Gillibrand participated in the Congressional Women's Softball game on Wednesday night, which benefits young women diagnosed with breast cancer. She says,
I'd be very worried about any of our young survivors not being able to get any health care coverage for the rest of their lives.
As with a lot of what's been going on this year, it's important to note that this secretive bill process is not normal.
Gillibrand says,
It's very unusual to have a piece of legislation this size that doesn't go through regular order ... Normally, we'd have hearings, an ability to mark up the bill and offer amendments before it's actually on the Senate floor, and that process was nonexistent. So the first time we see the bill will be the first time that it'll be voted on, without any chance for hearing or revision or consensus.
Even if there was space for amendments and revisions, however, Gillibrand thinks this bill, if it's like the House one, is "unfixable." She says,
It basically gives enormous tax cuts to the wealthiest Americans, it doesn't guarantee affordable care for people with pre-existing conditions, and it's going to raise the rates on people from 50 to 64, pretty much automatically. A lot of constituents are going to be harmed by this bill.
In case you needed a reminder, the number for the Capitol switchboard is 202-224-3121. Carry on.