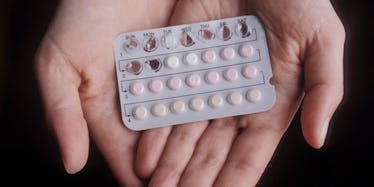 Here's How Much Your Birth Control May Cost Under AHCA
Raymond Forbes LLC
The American Health Care Act, the GOP health care plan that aims to repeal and replace Obamacare, has narrowly passed in the House, and currently awaits a vote in the Senate.
The controversial bill has been met with considerable pushback, as it would ultimately leave 24 million Americans without health insurance by 2026, according to an analysis from the Congressional Budget Office.
Should the legislation pass, women are poised to face especially complex challenges when it comes to accessing birth control, which has been covered by Obamacare thanks to the "birth control benefit."
The Affordable Care Act requires insurance plans to cover all Food and Drug Administration (FDA)-approved methods of birth control for women without having to pay any out-of-pocket costs.
Under the AHCA, however, women would no longer be able to reap any of those benefits.
While Republicans may view a woman's access to birth control as a "nitty-gritty detail" in crafting health care legislation, any woman of child-bearing age can assure you the issue is far from trivial.
Let's talk about how much each contraceptive method actually costs when you pay out-of-pocket.
While the prices vary depending on the circumstances, for most brands, a pack of birth control pills (which typically provides a month's worth of contraception) can cost as much as $50.
However, it's important to remember that only 17 percent of women who use a form of birth control are taking the pill.
The intrauterine device, or IUD, is another commonly used method, though it demands a much steeper price out-of-pocket.
Popular IUD brands like Mirena and Kyleena can cost anywhere between $500 and over $800.
Similarly, a birth control implant can set you back $800 without insurance.
Unfortunately, the prices aren't much kinder on your wallet as you make your way through the rest of the viable birth control options. Without insurance, you could pay up to $250 for the Depo-Provera shot, and $80 a month for the Nuvaring.
Mind you, these costs don't even factor in the doctors' visits to obtain these prescriptions, nor the follow-up visits, all of which do not come free without insurance.
So, what about Planned Parenthood?
Fortunately, clinics like Planned Parenthood provide amazing resources to women seeking forms of contraception but lack the health insurance to pay for it.
Not so fortunately, the latest version of AHCA plans to nix federal funding of the organization and bar patients from using any Medicaid dollars to access treatment at Planned Parenthood clinics.
To put this in perspective, in 2015, approximately 43 percent of Planned Parenthood's budget, or around $500 million, came from federal grants and reimbursements, according to NPR.
Moreover, 60 percent of Planned Parenthood's federal funding comes from Medicaid and Title X reimbursements for preventative and primary care, which includes not only birth control, but cancer screenings, as well.
Even if the AHCA manages to garner enough votes in the Senate, this does not mean Planned Parenthood will vanish overnight.
But they will lose a huge chunk of their funds, and we as patients could see an extremely alarming drop in the quality of their services.
Plus, according to the Government Accountability Office, approximately 390,000 women could lose access to preventative care, and as many as 650,000 women would receive reduced preventative care.
Cecile Richards, president of the Planned Parenthood Federation of America, discussed the potential impact of the GOP health care plan in the following statement:
This is the worst bill for women's health in a generation. This disastrous legislation once again makes being a woman a pre-existing condition; 'defunds' Planned Parenthood; guts maternity coverage; strips 24 million of their health insurance; lets insurance companies charge people with pre-existing conditions exorbitant rates; forces new moms back to work shortly after giving birth; and reduces access to contraception. In short, this bill makes it harder to prevent unintended pregnancy, harder to have a healthy pregnancy, and harder to raise a family. Alarm bells should be ringing in every house across America.
Richards urges the Senate to "listen to the American people and reject the worst bill for women's health in a generation."
While it's up to your health care provider whether or not to cover birth control, and some states, like New York, have made a plan to continue making coverage mandatory, the Trump administration has made it painfully clear that women's health is at the bottom of their priority list.