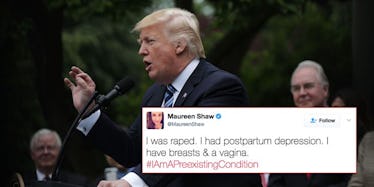 Women Are Tweeting How The AHCA Would Affect Them With #IAmAPreexistingCondition
Getty Images
Today, May 4, 2017, the House of Representatives voted to pass the latest amendment (the MacArthur-Meadows amendment) to the GOP's new health care bill, The American Health Care Act (AHCA).
The new bill reflects the Trump administration's attempt to hold true to their promise to "repeal and replace" Obamacare (The Affordable Care Act), though Trump took a huge loss when the originally proposed bill failed to pass the first time.
Though Obamacare protected individuals with many pre-existing conditions — like sexual assault — from losing health insurance coverage, the AHCA's plan now allows states to deny health insurance coverage to individuals experiencing postpartum depression, cesarean sections, domestic violence and even rape, as all are now considered "pre-existing conditions."
It's clear this list of conditions focuses primarily on women's health care, as these conditions mostly affect a vast amount of women everywhere in the United States. Though, the amendment itself claims, "Nothing in this Act shall be construed as permitting health insurance issuers to discriminate in rates for health insurance coverage by gender."
Following the latest AHCA developments, women have begun to express their outrage over the Trump administration targeting our health care issues.
Put simply, it seems many of these pre-existing conditions target females.
With rape and sexual assault considered pre-existing conditions, some women may now be denied coverage for the mental and physical care needed after these traumatic experiences.
The bill's amendment even included being a victim of domestic violence as grounds for coverage denial.
Also, women with necessary health care needs as a result of pregnancy may now be forced to pay exorbitant insurance premiums.
The AHCA isn't the Trump administration's only attack on women's issues. The revised bill also plans to cut federal funding to Planned Parenthood, a necessary and accessible resource for all things women's health, for a year.
A statement from NARAL Pro-Choice America President Ilyse Hogue reads,
President Trump and Congressional Republicans have shown once again their commitment to punishing and burdening women with every step they take. When they undermine and take away the healthcare we need as women, they're clearly saying that women and our ability to plan and care for our families are not their priority. Giving money to their rich friends is. That is where they are so out of step with those they claim to represent. Americans did not vote to have their healthcare taken away or to have their access to birth control cut off—the popularity of the Affordable Care Act proves that. Millions have marched in the streets, called their representatives, and protested at town halls to protect women's access to healthcare, and our 1.2 million member-activists will keep rising up in protest and demanding their leaders expand women's freedom and equality.
Though it's likely the Trump administration will continue to find ways to completely disregard women's health care, one thing is for sure: Women will not go down without a fight.