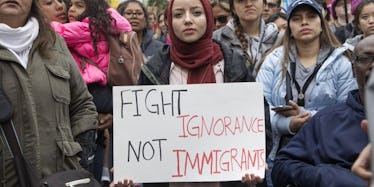 A 23-Year-Old That Donald Trump Promised To Protect Was Just Deported
Shutterstock
A 23-year-old is believed to be the first "Dreamer" to be deported under President Donald Trump, despite the president's promises to protect them.
Juan Manuel Montes was stopped by a U.S. Customs and Border Protection officer in Calexico, California on February 17, USA Today reports.
He had spent the evening with his girlfriend and stopped to get something to eat. The officer allegedly approached while he was waiting for a ride.
Montes didn't have his ID on him as he left his wallet in a friend's car. The officer allegedly would not let him get the wallet. Three hours later, he was in Mexico.
Montes's deportation goes against Trump's stated policy on Dreamers.
"Dreamers" are young people who were brought to the United States as children. The name comes from the DREAM Act.
They were protected from deportation by President Barack Obama's Deferred Action for Childhood Arrivals (DACA) program.
During the presidential campaign, Trump said that he would undo Obama's DACA protections.
But he has softened that stance since the January inauguration.
"They are here illegally. They shouldn't be very worried," Trump said in late January. "I do have a big heart. We're going to take care of everybody. We're going to have a very strong border. We're gonna have a very solid border. Where you have great people that are here that have done a good job, they should be far less worried."
In February, Trump issued guidelines that Dreamers should still be protected from deportation.
Montes was confused by his deportation.
"I thought that if I kept my nose clean nothing would happen," he told USA Today.
He is now staying with his aunt and uncle in western Mexico.
The Department of Homeland Security told USA Today it could not confirm Montes's story, and a spokeswoman said they did not have a record of him renewing his DACA status after it expired in 2015.
Montes's attorneys, however, said they had proof that his DACA status was valid through 2018.
Over 750,000 undocumented immigrants are protected by Obama's DACA.
It is especially worrisome because young people many had "come out" as undocumented immigrants, feeling safe under the Obama administration.
Although Trump promised to protect Dreamers, those who lost their DACA status appear to be targeted in deportations. They are being deported at significantly higher rates than before.
Attorneys have filed a lawsuit in California asking for details from Customs and Border Protection of their interaction with Montes. The case is ongoing.
Citations: USA Today, As 2016 Elections Loom, So Does A Possible End To DACA (NPR), Trump to spare U.S. 'dreamer' immigrants from crackdown (Reuters), TRANSCRIPT: ABC News anchor David Muir interviews President Trump (ABC News), DREAMers fear nightmare scenario in Trump's America (CNN)