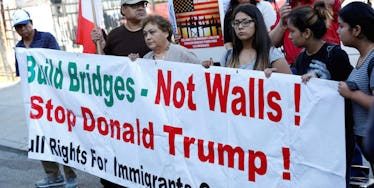 How To Get Involved If You're Worried About Immigrant Deportation Under Trump
REUTERS
Less than a week after winning the election, Donald Trump started talking about his plans for immigration as president.
And his plans have people pretty worried.
During "60 Minutes" on November 13, Trump said he would deport three million people.
It's unclear how realistic that number and his plan are, but it's definitely frightening.
But immigration has always been a scary business in the United States, especially as it concerns immigrants from Mexico and Latin America.
Over his eight-year terms, President Barack Obama deported 2.5 million people, for instance.
We're not sure exactly what's going to be happening under Trump.
During his campaign, he said he would create a deportation force and build up the Immigration and Customs Enforcement (ICE), but House Speaker Paul Ryan already said that's not happening.
He also said he would undo Obama's Deferred Action for Childhood Arrivals (DACA) program, which would put "dreamers, —young people who were brought to the US as children by their parents, named for the DREAM Act — including many college students, at risk of deportation.
Another cornerstone of Trump's campaign was about building a wall on the US-Mexican border and making Mexico pay for it.
He has said he is still planning on building a wall, although some of it might be a fence. President Enrique Peña Nieto of Mexico has said he would not pay for it.
Meanwhile, Trump built his campaign on discriminatory, racist language against Mexicans and Latinos.
If you're worried about the effects of Trump on these issues, there are actually things you can do.
Educate yourself on the issue — especially at the local level.
Obviously there's a lot going on and a lot up in the air.
Immigration issues are often fought on the local level.
If you live in a city, find out if it's a sanctuary city, which says it will keep undocumented immigrants safe.
Find out if there is 287(g) legislation where you live, which means the location agrees to work with ICE. If it does not have a 287(g) agreement, it means that it does not have to necessarily comply with federal officials.
If you're in college or went to a college, you should find out its policies on undocumented students, like if it's a sanctuary campus.
Call your local politicians.
Since so much of this is done on the local level, it's important to speak up to your elected officials.
Call the offices of your mayor, your governor, your college president and so on and tell them that you support sanctuary status and not having a 287(g) agreement.
Call up your elected representative in Congress and tell her or him that you do not support anti-immigration policies.
Be vocally supportive.
And not just on the phone with elected officials.
Sharita Gruberg, Senior Policy Analyst for the LGBT Research and Communication Project at the Center for American Progress, said,
Be really vocal and supportive of immigrants in your community. People are really frightened right now.
Learn how to be an active witness if you see hateful attacks going on.
Volunteer and/or offer your services.
Check out local immigration organizations and see what you can do. There's a lot of work that can be done.
If you happen to be an attorney, you can get trained to do screenings and handle immigration cases.
A lot of immigrants are held back because they just don't have legal work to help them along.
You can also get involved with local pro bono immigration organizations to help with the legal cases.
Check out these organizations:
These are helpful resources that you can consider getting involved with or donating to:
But as has been said, a lot of this happens on the local level, so you should find local organizations to get more involved and learn more.
Vote.
The next national election is the 2018 midterms. Vote.
Citations: NBC News, CNN, CBC, International Business Times, CNN, CityLab, Huffington Post