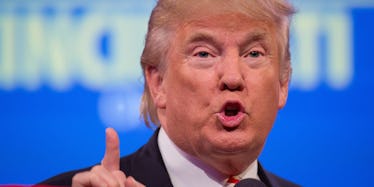 Mexico's President Clapped Back Hard At Trump On Twitter About His Wall
REUTERS
On Wednesday, Republican presidential nominee Donald Trump met with Mexican President Enrique Peña Nieto.
During the meeting, Trump called Peña Nieto his "friend," and in an immigration speech he delivered later that evening, which was exceptionally xenophobic, he described Mexico's president as "wonderful."
But it appears the honeymoon is over.
On Thursday, Trump and Peña Nieto began feuding on Twitter, where political debates seem to be happening more and more frequently.
After the meeting, Trump said he and Peña Nieto did not discuss the issue of who would pay for the US-Mexico border wall the real estate mogul wants to build.
Prior to the meeting, Trump consistently maintained Mexico would pay for the wall.
He reiterated this claim in his speech on Wednesday night and in a tweet on Thursday morning.
Peña Nieto, who was criticized for not taking the opportunity to publicly tell Trump his country would not pay for the wall, responded to this tweet and made it quite clear where he stands on this issue.
Translation:
On Wednesday night, Peña Nieto also claimed he told Trump that Mexico would not pay for the wall when they met.
In a tweet, he said, "At the start of the conversation with Donald Trump I made it clear Mexico would not pay for the wall."
In a way, a lot of this is just empty rhetoric and posturing. The fact this debate is occurring on Twitter is emblematic of that fact.
When it comes down to it, Trump's plan to build a wall is completely unfeasible.
It would be far too expensive and wouldn't accomplish what Trump says it would.
Not to mention, there's already a wall along America's border.
As John Oliver put it,
[Trump's wall is] an impossible, impractical symbol of fear.
Indeed, Trump's plan to build a border wall is really just an effective way for him to pander to a xenophobic group of voters who don't understand even basic things about America's immigration system.
Citations: Mexico's president is now feuding with Donald Trump on Twitter (Mashable)