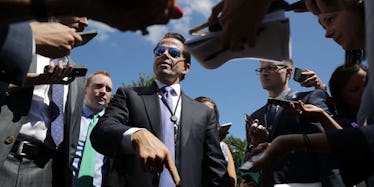 Trump Just Removed Anthony Scaramucci 10 Days After Hiring Him For Press
Chip Somodevilla/Getty Images
Just 10 days after he was hired, Anthony Scaramucci has been fired as White House communications director by President Donald Trump, The New York Times reports. This decision reportedly came after White House Chief of Staff John Kelly asked for Scaramucci to be removed. According to The Times, Kelly was apparently not happy with Scaramucci for bragging he reported directly to the president, instead of his chief of staff.
Kelly reportedly made it clear he was in charge at a meeting with White House staff on Monday morning.
Elite Daily reached out to the White House for comment on the removal, but did not hear back at time of publication.
Scaramucci's tenure as communications director might have been short, but that doesn't mean it wasn't eventful.
Even if this is a permanent dismissal from the White House, Scaramucci will always be remembered as the man who suggested to that Steve Bannon wants to "suck his own c**k" in a profanity-laced article published by The New Yorker on July 27.
Indeed, with less than two weeks in his position, Scaramucci arguably delivered what was the most absurd on-the-record conversation between a reporter and a representative of the White House in the modern history of the U.S.
It's not clear whether Scaramucci was simply removed from this position or has been kicked out of the White House altogether.
But this adds to the chaos that's already infecting the Trump administration, especially recently.
Scaramucci's firing not only comes 10 days after he was hired, it's also 10 days after White House Press Secretary Sean Spicer resigned, and just three days after White House Chief of Staff Reince Priebus was fired and replaced by Kelly.
The Trump administration increasingly feels like a reality TV show, in which someone gets cut every single week. From the dismissal of Michael Flynn to Scaramucci, this White House has been plagued with drama.