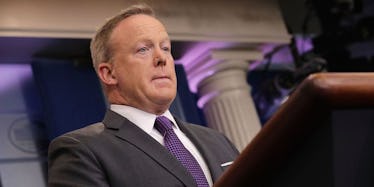 Sean Spicer Resigned As Press Secretary And Twitter Is Freaking Out
Chip Somodevilla / Staff/Getty
After months of pressure and mockery, Sean Spicer has resigned as White House press secretary, The New York Times reports.
Spicer's resignation apparently came because President Donald Trump offered Anthony Scaramucci the communications director position.
UPDATE: Scaramucci has officially been confirmed as White House director of communications. Sarah Huckabee Sanders is now the press secretary, they confirmed during Friday's press briefing. Spicer will be staying on for a few more weeks.
EARLIER: According to the New York Times, Trump offered Scaramucci the job at 10 a.m. ET on Friday, July 21. Trump reportedly asked Spicer to stay on in communications for the White House, but Spicer said no. Apparently, Spicer, apparently, is really, really not a big fan of Scaramucci. Elite Daily reached out to the White House for information about the resignation and Spicer's reported dislike of Scaramucci, but did not hear back at publication time.
Scaramucci is a Wall Street financier and big Trump fan. He currently works at Export-Import Bank. Scaramucci has made a ton of appearances on news networks to talk positively about the president.
Spicer has had a rocky time in his service as press secretary. He has been on since Trump's inauguration in January. As the public-facing role of the White House, he has been under a ton of scrutiny... and mockery.
Regardless of how you think he did in the role, Spicer's become a very highly recognized -- and kind of sweetly relatable -- figure within the Trump administration. So as the news came out, people took Twitter to voice their #feelings about Spicer leaving us.
Among the fond farewells for Spicer, there was some savagery.
Of course, many people wondered what this Spicer news meant for Saturday Night Live.
Spicer had been routinely mocked on SNL, where he was portrayed with brilliance by Melissa McCarthy. Unfortunately, SNL is on summer break, so we can't get their take on the situation.
But in all seriousness, Spicer's time in the White House was full of drama and sketchiness.
The White House press secretary is supposed to provide information to reporters (and, thus, the public) about what the president is doing.
Spicer has had some trouble with that.
To be fair to him, Spicer has been the one forced to answer for many of the president's worst tweets, including ones about unnamed sources and, of course, "covfefe."
Then again, he hasn't exactly made it easy on himself. Spicer has had flops on the Holocaust and a certain incident allegedly involving hiding in the bushes.
Rumors about Spicer's exit from the White House have been swirling since he started disappearing from press briefings in May. Sarah Huckabee Sanders started standing in for him, and the Trump administration made an offensive explanation.
Soon enough, press briefings went dark as the White House made the press stop broadcasting them.
So who knows who will be answering for Spicer's resignation at the press room podium in the White House -- or if we'll all be able to see what they say.