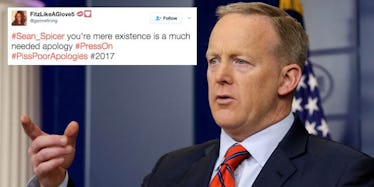 No One's Accepting Sean Spicer's Heartless Apology For Those Holocaust Comments
REUTERS
Sean Spicer can't win... but only because he's losing so, so hard.
In case you missed it yesterday, the White House Press Secretary slipped up big time by accidentally trivializing the Holocaust.
He essentially said Adolf Hitler wasn't as bad as Syrian President Bashar al-Assad. He remarked,
We didn't use chemical weapons in WWII. We had someone as despicable as Hitler who didn't even sink to using chemical weapons.
Spicer made the comments in relation to President Donald Trump approving a military strike against an airbase held by the Syrian government.
However, it somehow got worse.
Spicer was asked to explain exactly what he meant by a journalist in the crowd (whose roller coaster of a reaction you can see above), and that's when he got out an oversized shovel and started to dig a hole, giving birth to the new viral phrase, "Holocaust centers."
He said,
I think when you come to sarin gas, he was not using the gas on the same way that Assad was doing. I mean there was clearly -- I understand, thank you, I appreciate that. There was not -- he brought them into the Holocaust centers -- I understand that, what I'm saying in the way Assad used them where he went into...
It trails off there in a nonsensical manner.
The point is, it was so stupid and wrong, Spicer has now apologized for the comments.
He explained in an interview with CNN he'd "mistakenly made an inappropriate and insensitive reference to the Holocaust, for which there is no comparison."
To be fair, the apology could have come right after or nine months after his conference -- the response would have been the same: UNFORGIVING.
Charles makes a very good point: No matter how outrageous Spicer's comments get, he will never be fired, which is kind of inspiring in a weird way.
But the main reaction was confusion.
KT Tunstall even expressed her thoughts on the matter.
But it's Clair's comment that will go down in history.
Citations: Spicer apologizes for Hitler comparison: 'It was a mistake to do that' (CNN)