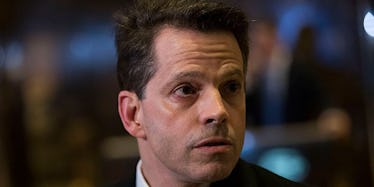 Anthony Scaramucci Is Causing Spicer Drama In White House Communications
Drew Angerer/Getty Images
The White House apparently has a new man in charge of communications, as former press secretary Sean Spicer exits the back door.
Anthony Scaramucci is expected to be been named director of communications by President Donald Trump. Scaramucci is a Wall Street financier and Trump loyalist.
UPDATE: Scaramucci has officially been confirmed as White House director of communications. Sarah Huckabee Sanders is now the press secretary, they confirmed during Friday's press briefing. Spicer will be staying on for a few more weeks.
EARLIER: Rumors of Scaramucci's hire first swirled on Thursday, July 20, and a deal was formally reached on Friday, according to Axios' Jonathan Swan.
Almost simultaneously, Sean Spicer handed in a letter of resignation, according to the New York Times, which cited Spicer's disagreement with the appointment as the reason for the resignation.
Spicer had been fulfilling much of the communications director role, which had been left vacant since the former director, Mike Dubke, resigned in May.
Spicer is not the only person who was upset by the move, though. According to the Times reporter and CNN analyst Maggie Haberman, White House chief of staff Reince Priebus had attempted to block the appointment on multiple occasions.
Who is Scaramucci?
Anthony Scaramucci is the founder of SkyBridge Capital, a hedge fund with nearly $12 billion in assets. In January, he sold his stake in the company in anticipation of receiving a role at the White House, according to Fox News.
Just last month, Anthony Scaramucci became senior vice president and chief strategy officer of the Export-Import Bank. Now, he will likely vacate that role for his new job at the White House.
He's had no previous official experience working in a communications-centric role in politics. The 53-year-old entrepreneur has, however, been a fervent defender of the president during appearances on cable news networks.
During a Friday morning appearance on the Fox Business Network, Trump senior adviser Kellyanne Conway said Scaramucci was a "fabulous asset" to the administration.
Scaramucci, a Republican donor, supported Trump during the general election, but raised funds for the campaigns of Scott Walker and Jeb Bush during the GOP primaries.
Now, he'll be in a position to represent the president on a daily basis.
Elite Daily reached out to the White House for information about the resignation and Spicer's reported dislike of Scaramucci, but did not hear back at publication time.