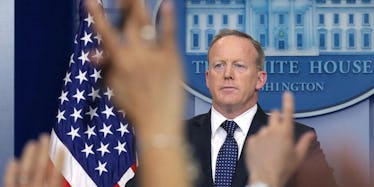 Sean Spicer Is Reportedly Looking For His Own Replacement, Because Of Course
Alex Wong/Getty Images
Oh, Sean. Sean, Sean, Sean.
That poor, sad man.
He has argued with reporters.
He has disappeared for weeks at a time.
He's hidden from reporters in the bushes. The President didn't let him -- a devout Catholic -- meet the Pope. The freakin' Pope.
Hell, he even tried his hardest to explain covfefe.
Reporters have asked "Where's Sean?" at briefings, to which Deputy Press Secretary Sarah Huckabee-Sanders essentially answered: He's here, don't worry about it, ¯\_(ツ)_/¯.
The press has speculated on who might replace him if and when he gets fired. And after months of on-and-off speculation, we finally have an answer. Sort of.
After White House Communications Director Michael Dubke resigned in May, Spicer took on double duty, managing both daily press briefings and the White House's overall communications strategy.
And in the tragicomedy that is Sean Spicer's career as White House Press Secretary, he has now been tasked with finding a new press secretary and communications director, according to Politico.
This wouldn't be so sad if it weren't for the doubt surrounding his future: sources at the White House state that, while many White House officials believe Spicer should be promoted to Communications Director, even that is uncertain.
According to Politico, Spicer is pushing for a promotion -- he'd like to be in a role senior to both the Communications Director and the Press Secretary.
A White House official told Politico they "would not blame him for leaving" if he doesn't get that promotion.
"The president owes him this much for all he's done for him. Sean is indispensable and I think the president knows that," the official said.
That's right. The man who bought rosaries for friends and family in the hopes of receiving Papal blessings and was publicly rejected by his mercurial boss is now possibly looking for his own replacement -- or his new boss.
Spicer and White House Chief of Staff Reince Priebus have reportedly reached out to right-wing radio and television personality Laura Ingraham for the position of Press Secretary and Daily Mail editor David Martosko -- who was interviewed for a White House press position in December -- for Communications Director.
Oh, Sean. If Laura Ingraham were my potential replacement, I would be hiding in the bushes, too.