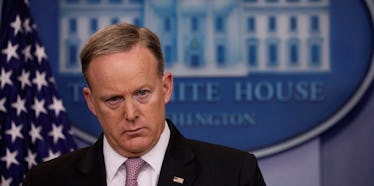 Here's Who Could Replace Sean Spicer As Press Secretary If Trump Fires Him
REUTERS
Sean Spicer is on the hot seat.
The 45-year-old White House press secretary appears to be in danger of losing that very position, with multiple reports claiming President Donald Trump plans a shake-up of his communications personnel, which of course would affect Spicer's job.
One of those reports was filed on Thursday, by Politico. This latest report claims Spicer will see his role significantly diminish after Trump returns from his five-country trip, which begins Friday.
Spicer will no longer be expected to provide daily, on-camera briefings before the press, according Politico, which cited White House "officials."
It's unclear whether such a change in Spicer's role would be just the beginning of the gradual exit out of the White House, but it's safe to say the prospect of Spicer being replaced is not at all far-fetched.
That reality begs the question: Who would replace him?
Right now, there appears to be four major front-runners.
Kimberly Guilfoyle
First among the front-runners is Fox News host Kim Guilfoyle, whose potential as the future press secretary has been discussed by both the president and the woman herself.
Last week, the New York Times reported that President Trump raised the idea of Guilfoyle as press secretary to his associates. Then, Guilfoyle touted her own fitness for the job in an interview this week with the Bay Area News Group.
I think I have a very good relationship with the president. I think I enjoy a very straightforward and authentic, very genuine relationship, one that's built on trust and integrity, and I think that's imperative for success in that position.
However, the momentum behind Guilfoyle's candidacy has stalled, with the Washington Examiner reporting that Trump is "furious" at reports that the Fox News host is openly campaigning to replace Spicer.
Meanwhile, Fox News itself put out a statement making it clear that Guilfoyle is under contract for multiple years.
Laura Ingraham
Conservative radio talk show host Laura Ingraham had been considered a favorite to become press secretary in the immediate aftermath of the election.
She, too, publicly addressed the subject of possibly working in the White House, telling Tucker Carlson last November,
It's a big decision, but I'm at the point where, if my country needs me, and if I can do something to actually, you know, advance the Trump agenda, which is stuff I have written about now for 15 years, with trade, immigration and just renewing America, then I obviously have to seriously consider that.
That talk stopped, obviously, when Spicer got the gig. However, with recent reports stating Trump wants to shake things up at the White House, Ingraham reiterated her willingness to serve.
She told Sean Hannity on Monday,
I would always go help serve my country if I thought I could really make a difference.
Just in case the president didn't hear her the first time.
We get it. You want the job.
Kellyanne Conway
Conway is a strange one when it comes to this subject. She hasn't been rumored as a candidate for the job, and yet she already works at the White House, so you'd expect a smooth transition.
Plus, we all know she's the G.O.A.T. at spinning a story, for better or worse.
Even when you think the she's in a really terrible position, as seemed to be the case last week when she had to go on CNN and explain why Trump fired former FBI Director Comey, she'll find a way to wrestle back some sense of dominance and actually frustrate her opposing reporter.
She even made Anderson Cooper show his frustration.
Hey, like it or not, she's good at what she does.
Kayleigh McEnany
If the press secretary's job continues to demand walking into a buzzsaw in front of a huge audience every time Trump needs defending, then, I mean, there's few people as prepared as McEnany.
The 20-something Trump supporter routinely does that on CNN, like, voluntarily.
Take this appearance, for example, when she said there's "no proof" Trump fired Comey because of anything related to Russia -- after Trump literally said he considered it.
Again, that's McEnany doing this for her day job, out of the kindness of her heart. Get her on that White House payroll and watch her up her game even more.
Bonus: Melissa McCarthy
Listen, all I'm going to say is that if there's one person who knows McCarthy could do a good Sean Spicer impersonation, it's Sean Spicer.
He proved as much when he jokingly threatened to move his podium while answering to a reporter.
Sound familiar?
Just saying, guys. Just saying.