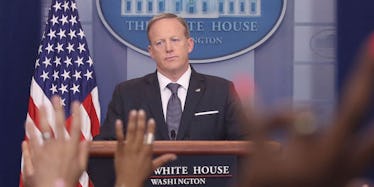 Trump Admin Had A Super Inappropriate Response To Why Sean Spicer Is Off-Camera
Mark Wilson/Getty Images
Donald Trump's chief strategist, Steve Bannon, had a completely inappropriate response when asked about the availability of Press Secretary Sean Spicer.
Spicer has been having a hard time as press secretary, to say the least.
He is in one of the most high-profile and high-pressure positions in the Trump White House -- which has led to him also being one of the most criticized and routinely mocked members of the administration.
Meanwhile, aside from the outside pressure, Spicer has reportedly been facing criticism and pressure from inside the White House.
Earlier this year, it was reported that Trump did not like Spicer's suits. And in the past month, Spicer has been disappearing from his public role.
The press secretary is supposed to be providing public press briefings, but those have been disrupted in the past month. Recently either someone else -- such as Deputy Press Secretary Sarah Huckabee Sanders --  has been stepping in, or press briefings been taken off-camera completely. That means these briefings happen, but they're not recorded and broadcasted to the public.
This, on top of Spicer's non-answers to questions, has made many members of the press increasingly frustrated, with CNN's Jim Acosta calling him "useless" on Monday.
By mid-May, it was rumored that Trump wanted to replace Spicer. And just this week, it was reported that Spicer is looking for his own replacement for press secretary, as he hopes to get a promotion.
With all this going on, Rosie Gray of The Atlantic wrote an article about the disappearing press briefings that was published the morning of Tuesday, June 20.
In the course of reporting, The Atlantic apparently reached out to Bannon, Trump's controversial chief strategist, to ask why some of the press briefings had been moved off-camera.
In response, Bannon allegedly sent Gray a text message reading,
Sean got fatter
Bannon did not respond to a follow-up question.
Bannon's response is just completely inappropriate, especially coming from someone supposed to be helping to run this country.
It's important to note that someone's weight does not indicate whether they can or cannot be on camera, or whether they can do their job responsibly.
Second of all, it's shaming, offensive, and cruel to make an off-hand joke about weight, if that's what Bannon was doing with that text.
We can only hope that this mean-spirited attitude is not a pattern across the White House, but then again, the president does not have the greatest track record when it comes to inappropriate comments about someone's appearance.
Trump's history includes calling Rosie O'Donnell a "fat pig," saying Kim Kardashian had "gotten a little bit large" when she was pregnant, and calling his own wife, Melania, a "blimp" when she was pregnant.
Trump also reportedly referred to former Miss Universe Alicia Machado as "Miss Piggy," which became a point during the 2016 presidential election.
Elite Daily has reached out to the White House for comment, but did not hear back at time of publication.