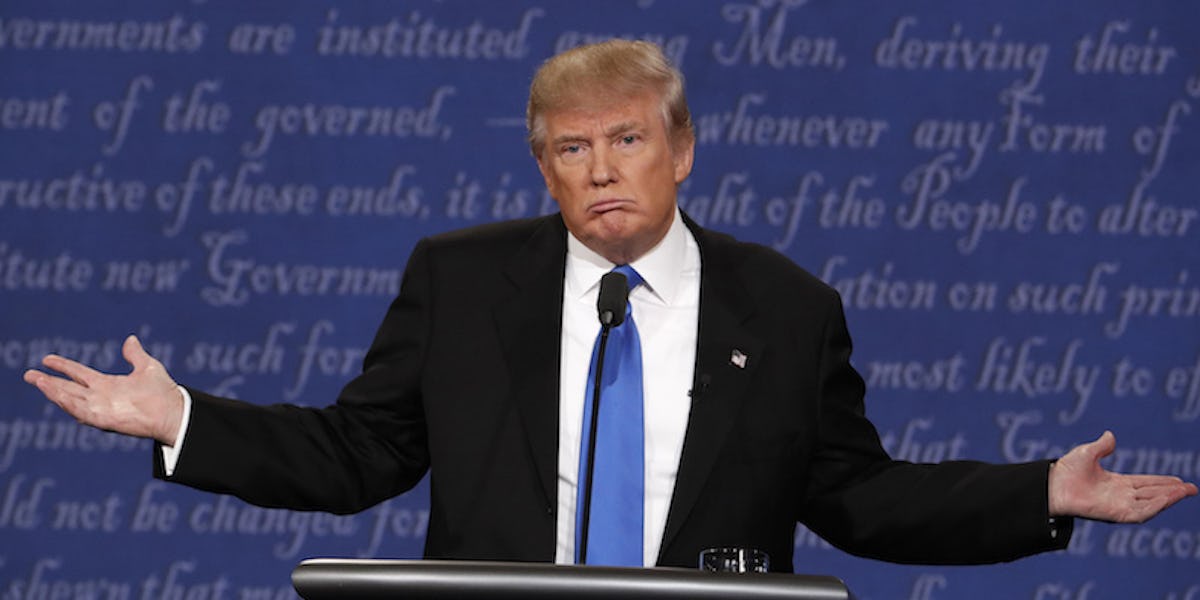 Trump Defends Calling Former Miss Universe 'Miss Piggy': 'She Was The Worst'
REUTERS
Last night, Donald Trump continued to criticize former Miss Universe Alicia Machado for gaining weight, apparently deciding that's the best way to woo female voters.
During the first presidential debate on Monday night at Hofstra University in New York, Hillary Clinton brought up the former Miss Universe.
Machado – who was Miss Venezuela – won the contest in 1996, which was the first year Trump owned the competition. After the competition ended, she gained some weight.
Trump began calling her "Miss Piggy" and "Miss Housekeeping" because, you know, she speaks Spanish.
He also invited reporters to watch her work out without telling her. Machado became upset by Trump's treatment, and she developed eating disorders. She details her story in a video for the Clinton campaign.
Trump was asked about her on Fox News the morning after the debate.
While Clinton was talking about Machado during the debate, Trump interrupted her by asking her where she found that information.
But on Tuesday morning, Trump said that he did, in fact, know who Clinton was talking about. And he had a lot more to say about Machado.
Trump, who is allegedly a feminist, said,
That person was a Miss Universe person, and she was the worst we ever had. The worst, the absolute worst. She was impossible, and she was a Miss Universe contestant and ultimately a winner who they had a tremendously difficult time with as Miss Universe.
Don't worry, Trump didn't stop there. He went on to say,
She was the winner, and, you know, she gained a massive amount of weight, and it was a real problem. We had a real problem.
Machado tweeted a thank you to Clinton on Monday night, saying she had respect for women. Machado added, in Spanish, that she is "with her," thereby following Clinton's campaign slogan.
Since the Miss Universe competition, Machado has become a US citizen.
She will be voting for Clinton in November.
Citations: Politico, Daily Mail