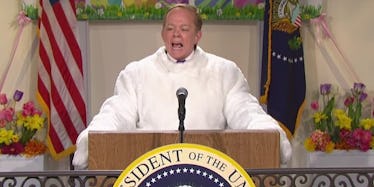 Melissa McCarthy Roasts Sean Spicer's Hitler Remarks In Her Latest 'SNL' Sketch
YouTube
In need of a quick way to catch up on the latest news coming out of the White House these days? Don't turn on cable news. Simply wait for a new episode of "Saturday Night Live!" instead.
The late night sketch comedy show continues to hit the nail right on the head when portraying political figures such as President Trump, Press Secretary Sean Spicer, Attorney General Jeff Sessions and others.
Aside from making us all laugh hysterically, the telling sketches also cause us to fall into a deep pit of depression. I guess the fact there's an awful amount of truth to each of the sketches should cause some worry!
The latest member of the Trump administration to take heat from "SNL" is none other than Sean Spicer. This comes as no surprise since it was just last week the White House Press Secretary compared Nazi leader Adolf Hitler to Syrian President Bashar al-Assad.
He doubled down on his stupidity by referring to Nazi concentration camps as "Holocaust centers."
That's precisely why Melissa McCarthy returned to the late night comedy show to put him on blast by making him look as uninformed and totally insane as he's proved to be.
Oh, and she wore a bunny costume the entire time because not only is it Easter Sunday, but Sean Spicer actually dressed up as the Easter bunny IRL for the White House Easter Egg Roll during Bush's presidency.
On Saturday night, the 46-year-old actress starred in a hilarious sketch titled "And Now A Message From The White House Easter Bunny."
Melissa McCarthy appeared as an insincere Sean Spicer sporting an Easter bunny costume.
Easter bunny Spicer starts off by yelling at everyone, obviously.
He then tells everyone to "shut up" so he can "apologize" for the baffling remarks he made about Hitler and Assad.
He also "apologized" for referring to concentration camps as "holocaust centers" and said he meant to call them something else...
Typical Spicer!
One of the best parts of the sketch comes when Spicer begins "explaining" the concept of Passover...
While it's hilarious, it's kind of scary to think he actually has it in him to say most of what McCarthy jokingly said...
Check out the hilarious sketch below!
Citations: Melissa McCarthy Returns to 'SNL' as an Aggressive, Ill-Informed Sean Spicer (Complex)