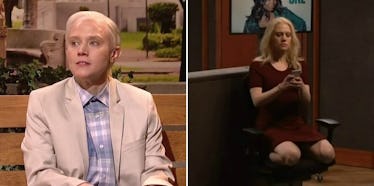 Kate McKinnon Hilariously Trolls Kellyanne Conway And Jeff Sessions On 'SNL'
YouTube
If you irresponsibly missed Kate McKinnon's work on this weekend's hilarious new episode of "Saturday Night Live," don't worry. We've got you covered!
"SNL" and McKinnon wasted no time jumping into character as Attorney General Jeff Sessions for the show's cold open.
The sketch begins as a play on the classic 1994 film "Forrest Gump."
With his memento-filled suitcase in hand, Sessions sits at a bus stop where he touches on everything from his relations with Russian ambassador Sergey Kislyak and recusing himself from probes regarding Trump's 2016 presidential campaign.
When asked if he's ever spoken with Kislyak, McKinnon's Sessions doesn't hesitate to admit he did. In the process, he throws a bunch of other names under the bus, including Michael Flynn, Jared Kushner and Paul Manafort.
Eventually, Sessions names just about everyone closely connected to the Trump administration before stuffing his face with chocolates and acting like he didn't just spill all the beans.
Toward the end of the clip, a special guest hops off the bus...
It's Beck Bennett's Vladimir Putin, of course! Perhaps the cat is let out of the bag when Sessions and Putin share a firm fist bump.
The hilarious sketch ends with Octavia Spencer playing Minny from "The Help." She sits alongside Sessions and brings him a heartwarming gift made with love. Can you guess what it is?
If you guessed a poop-filled pie, you are correct.
Here's Kate McKinnon playing Attorney General Jeff Sessions on the latest episode of "Saturday Night Live."
McKinnon did not stop there...
The 33-year-old actress and comedian took another stiff jab at the Trump administration's wacky antics last week by channeling counselor to the president Kellyanne Conway.
Throughout the entire episode, a texting Kellyanne popped up on the screen during the most random moments.
The kneeling White House official even marked her territory during the Weekend Update segment.
Bravo, Ms. McKinnon!
You seem to hit the nail right on the head every single time you portray one of these fictional characters.
Oh, wait, they're not "fictional." Sadly, they're all very real... God help us all.
Citations: Kate McKinnon Returns to Troll Jeff Sessions as Forrest Gump in 'SNL' Cold Open (Complex)