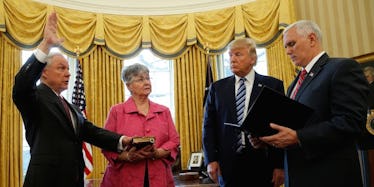 What It'll Take For Jeff Sessions To Be Charged With Perjury For Russia Scandal
REUTERS
Jeff Sessions, Donald Trump's new attorney general, spoke with Russian Ambassador Sergey Kislyak twice during the presidential campaign in 2016. The news broke on Wednesday night.
During his confirmation hearing to be voted in as attorney general in January, he was asked directly if he had contact with the Russians during the election by Senator Al Franken.
Sessions said, under oath, that he did not have contact with Russians during the campaign.
Like straight-up, Sessions said,
I have been called a surrogate at a time or two in that campaign, and I did not have communications with the Russians.
So basically, we now have 2017's version of "I did not have sexual relations with that woman."
There's a bunch of problematic stuff going on with Sessions and Russians, which includes possible perjury.
Perjury means you lied under oath on purpose. A lot of people are saying Sessions committed perjury by lying about having contact with Russians under oath during the confirmation hearing earlier this year.
But it's that on purpose (or, as the law says, "willfully") part that makes it difficult to fully prove Sessions actually committed perjury.
Sessions has a few defenses. He could say he forgot, which is a lame excuse, but an excuse that would mean he didn't lie on purpose.
But there's a stronger, more technical argument Sessions could make against perjury. The question during the hearing appeared to refer to talking to Russians while working for the Trump campaign.
During the answer, Sessions didn't say he was technically working for the campaign -- he only said he had been called a surrogate.
Meanwhile, he was still working as a senator. So he could say something like, "Oh, sure, I talked to Russians in my capacity as a senator. I thought you were just asking if I'd talked to them in my capacity on the Trump campaign!"
In fact, in a statement on Wednesday night, Sessions said,
I never met with any Russian officials to discuss issues of the campaign. I have no idea what this allegation is about. It is false.
See that specificity? "To discuss issues of the campaign." There's the defense.
While a perjury charge for Sessions might be hard to come by, there's a lot of other actions going down about the Russian contact.
A ton of Congresspeople are calling on Sessions to resign. At least 48 Democrats have said he should step down as attorney general.
This includes Rep. Elijah Cummings, ranking member of the House Oversight Committee. In a statement on Wednesday night, Cummings compared Sessions to Michael Flynn, Trump's national security adviser who resigned because he lied about having contact with Russian Ambassador Sergey Kislyak.
Cummings called it "inconceivable" that Sessions could watch that drama go down and not speak up about his own contact with Kislyak.
Republicans in Congress are annoyed about Sessions's contact with the Russian ambassador as well.
There are investigations going on about Russia's influence on the American election.
Top Republicans, including Jason Chaffetz, chairman of the House Oversight Committee, are calling on Sessions to recuse himself from those investigations (aka not be involved in the investigations as attorney general -- the AG oversees the Justice Department and FBI).
When you see Republicans distancing themselves from a fellow Republican, you should notice something's up (or at least they don't want to be affiliated and hurt their own standing).
During the January confirmation hearing, Sessions did say he would recuse himself from certain investigations when deemed necessary.
So far, the Trump White House is supporting Sessions and calling this an instance of fake news.
A White House statement says this is simply an instance of partisan attacks from the Democrats to undermine the Trump administration.
The statement adds that of course the Dems dropped this right after Trump gave a speech that got positive reviews. According to them, the Democrats just needed something to make Trump look bad while he was on the up and up.
This is an ongoing story in its early stages, and we'll be here to see what happens next.
Citations: Sessions spoke with Russian ambassador twice during Trump's campaign (The Hill), 48 Congressional Democrats call on Attorney General to resign (ThinkProgress), Top Republicans call on U.S. attorney general to recuse himself in Russia probe (Reuters)