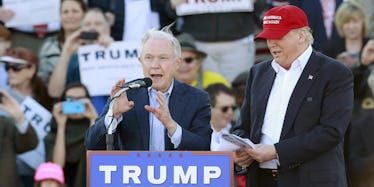 Trump's Attorney General Pick Was Considered Too Racist To Be A Judge In 1986
REUTERS
Donald Trump has selected Alabama Senator Jeff Sessions for attorney general, The New York Times reports.
Sessions, who endorsed Trump early in his campaign, was considered too racist to be a judge in the 1980s. But apparently, that wasn't a deal breaker for the president-elect.
In 1986, when Sessions was a US prosecutor in Alabama, President Ronald Reagan nominated him for federal judgeship. His nomination was ultimately rejected after former colleagues testified that Sessions used the n-word, and also once joked he thought the KKK was "OK, until he learned they smoked marijuana."
So, it looks like the US will go from having its first black female attorney general to having a white male whose political career was almost derailed over accusations of racial bias.
Sessions is also a climate change skeptic. He opposes marriage equality, doesn't support criminal justice reform (or marijuana legalization), is staunchly against abortion and consistently takes hardline stances against undocumented immigrants.
He's even fought against legal immigration.
Additionally, former colleagues of Sessions said he referred to civil rights groups like the NAACP as "un-American" and "communist-inspired."
To top it all off, Sessions opposed the Voting Rights Act: one of the most vital pieces of civil rights legislation in US history.
The selection of Sessions is particularly unsettling when you consider the other individuals Trump has tapped for key positions in his administration, such as Stephen Bannon and Michael Flynn.
Trump is arguably surrounding himself with extremists, which is why many people and organizations are understandably alarmed.
Meanwhile, David Duke – the former leader of the KKK – is celebrating Trump's appointments.
Trump promised he'd be a president for all Americans, but the people he's selecting to help him lead the country have long records of threatening civil rights.
If certain groups are frightened right now, their feelings are completely justified. It's very difficult to feel optimistic about Trump's America.