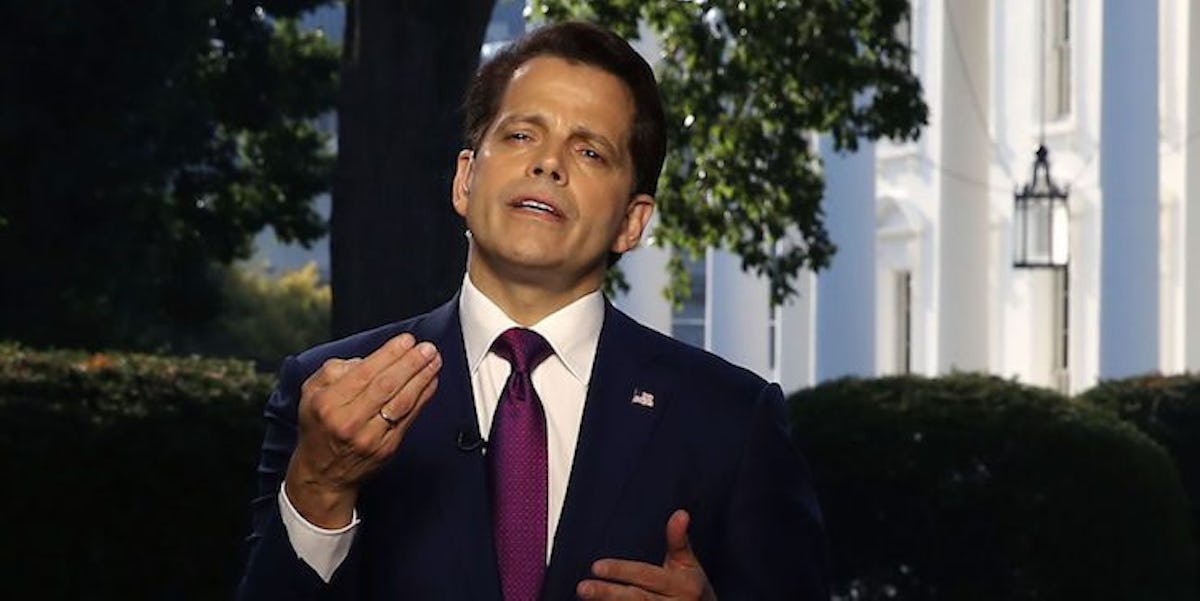 Trump's New Press Guy Said White House Chief Of Staff "Cock-Blocked" Him
Mark Wilson/Getty Images
Just a few days into his new role in the White House, Communications Director Anthony Scaramucci unloaded on his White House colleagues in a call with a reporter at the New Yorker. On the night of Wednesday, July 26, Scaramucci reportedly called up Ryan Lizza, a reporter at the New Yorker. Without asking to have the conversation be off-the-record or on background -- which would've meant that Lizza could not quote the conversation -- Scaramucci just apparently went off with a rant about his situation at the White House.
UPDATE: Scaramucci reacted to the New Yorker report in a tweet.
EARLIER: Elite Daily reached out to the White House for comment on the reported call, but did not hear back at time of publication.
Since joining the White House (again, a few days ago), Scaramucci has been particularly concerned with "leaks," and that's what his conversation with Lizza surrounded. In the call, Scaramucci discussed the "leak" of information about a dinner at the White House.
Scaramucci called Lizza because of a tweet the reporter had sent saying that Scaramucci was having dinner at the White House with President Donald Trump, Melania Trump, Sean Hannity, and former Fox News executive Bill Shine. Lizza tweeted that he got this information from a "senior White House official." So Scaramucci demanded to know who that White House official was.
Scaramucci told Lizza that if he didn't reveal the source, he'd "eliminate everyone in the comms team and we'll start over." Scaramucci also reportedly called the situation "a major catastrophe for the American country."
But that wasn't the only issue on Scaramucci's mind on Wednesday night. He sent a since-deleted tweet that seemed to suggest that White House Chief of Staff Reince Priebus was behind what he called a leak of his financial disclosure.
Scaramucci went on to discuss Priebus on a call to CNN on Thursday morning, saying that they had their differences.
The ultimate irony of all of this is that Scaramucci's financial disclosure was not leaked. His disclosure was obtained by Politico by purely legal means. As Politico reporter Lorraine Woellert explained, all it took was a (LEGAL) request to the government for the document.
During the call with Lizza, Scaramucci mentioned firing everybody several times to stop the "leaks" from happening. He added at one point that he wants to "f*cking kill all the leakers."
He also reportedly ranted some more about Priebus, calling him a "a f*cking paranoid schizophrenic, a paranoiac." In a more colorful part of the conversation, Scaramucci imitated Priebus, saying,
Oh, Bill Shine is coming in. Let me leak the f*cking thing and see if I can cock-block these people the way I cock-blocked Scaramucci for six months.
Scaramucci also told the reporter that he was not interested in media attention, saying,
I'm not Steve Bannon, I'm not trying to suck my own cock ... I'm not trying to build my own brand off the f*cking strength of the President. I'm here to serve the country.
The full New Yorker piece on the Lizza/Scaramucci call is worth a look, if just for the complete state of disbelief in which it will leave you.
So, yup, that's where we're at, America.