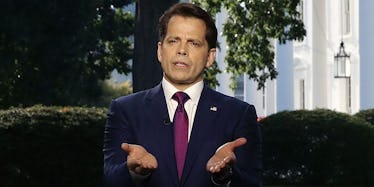 Trump's New Press Guy Is Picking Fights With Co-Workers On Twitter, Obviously
Mark Wilson/Getty Images
On the day he got hired, Anthony Scaramucci insisted he "loves" all of his new co-workers. Less than a week later, he tweeted about getting the FBI to investigate those same co-workers, and the tweets singled out one person in particular. First came this post, on the night of Wednesday, July 26.
With that tweet, Scaramucci gave many the impression that he wanted to the FBI to specifically investigate Trump's chief of staff, Reince Priebus.
It's a message that contradicted what he told reporters about Priebus last Friday, Scaramucci's first day as the White House's communications director. Scaramucci said at a press conference,
Reince and I have been personal friends for six years. We are a little bit like brothers, where we rough each other up a little, which is totally normal for brothers. There's a lot of people here who have brothers, so you get that.
And yet, just an hour after Scaramucci's initial tweet, CNN analyst Ryan Lizza amplified what the post seemed to indicated. Scaramucci's, Lizza said, does indeed want the FBI to investigate his own co-worker, Priebus.
Scaramucci, for his part, denied the assertion.
The 53-year-old Wall Street veteran deleted his initial tweet, and then posted a new one. This time, Scaramucci said that he wasn't singling out Priebus. He was just letting everyone else know that Priebus would be helping to find the leakers.
So, Scaramucci either want Priebus to be investigated, as Lizza reported, or wants members of Priebus' staff to be investigated, while singling out Priebus as the one responsible for the staff.
Either way, the bottom line is clear: Scaramucci is putting Priebus on the hot seat, and he continued to do it on Thursday morning. Scaramucci called into CNN and said he didn't know if his relationship with Priebus was "reparable."
The portion of the interview in which he discussed said relationship can be heard in the video below:
So, if there's was any doubt, the answer is yes, Scaramucci and Priebus are beefing.
Oh, and, in case you're wondering, all of this appears to be happening with President Donald Trump's approval, as a couple of White House reporters noted in the tweets below.
So now we know the president is not bothered by White House feuds playing out in public. Also, water is wet.