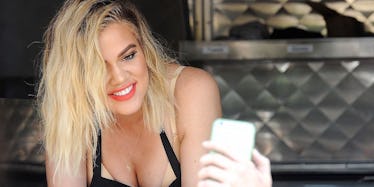 Khloé Kardashian Makes Brutally Honest New Year's Resolutions For Kim And Rob
REX/Shutterstock
Khloé Kardashian wants her family to shape DAFUQ up in 2017.
As much as 2016 was a terrible year for the world, it was also a legendarily miserable 365 days for the world's most famous family, the Kardashians.
At the start of the year the reality TV staples were getting over the fallout from Lamar's brothel stroke and saw a surge in popularity for Kylie's Lip Kits.
Somewhere in the middle of the year this positive karma streak took an awful nosedive, starting with the introduction of Blac Chyna into the family's lives and ending with Kim being held up at gunpoint.
Khloé won't let 2017 destroy her family though.
The youngest Kardashian lady child and kween of the "Revenge Body" went to her app to give some advice to a few members of her family as they head into the new year.
Kim Kardashian
Khloé recognizes the tough year 36-year-old pop culture icon Kim has gone through.
A month after being held at gunpoint during Paris Fashion Week, Kim had to deal with husband Kanye West's mental breakdown and concert tour cancellation.
This year Khloé wants Kim to refocus her energy to work on her family and general happiness.
She writes,
I think that with everything that has happened in Kim's life this year, she really had to redefine her priorities.
Khloé wants Rob to put all of his effort into becoming the best dad he can be. She writes,
I want him to block out the extra noise and focus on himself and what truly matters in life.
Translation: *cough* DIVORCE BLAC CHYNA AND GET YOURSELF OUT OF THAT DAMN SITUATION BEFORE SHE MURDERS YOU IN YOUR SLEEP OR JUST STRAIGHT UP BURNS THE HOUSE DOWN TO GET THAT SWEET SWEET KARDASHIAN FIRE INSURANCE MONEY YOU KNOW THEY FOR SURE HAVE *cough*
Khloé thinks Kendall is perfect and shouldn't change anything.
Kylie Jenner
Same for Kylie. Khloé thinks she's killing it, which she is, and wants her to "f*cking keep it up, girl!"
From Khloé's mouth to God's ears...