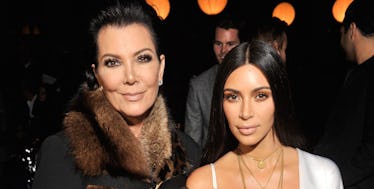 Kim K's 'First Selfie Of 2017' With Kris Jenner Will Make You Happy Cry
REX/Shutterstock
2017 is already off to a great start because Kim Kardashian returned to social media.
On January 3, the 36-year-old reality star made the world stop spinning when she added her first photo on Instagram in over 3 months.
After Kim Kardashian was held up at gunpoint inside her Paris hotel room, the mother of two decided to take a break from the spotlight.
But, the queen of selfies is back and her first selfie of 2017 with Kris Jenner will make you happy cry.
Last night, Kim K added a photo of her with her mother in a car. It's unclear where the two are going, but that doesn't even matter to us.
All that matters is seeing Kim's face in front of the camera. WELCOME BACK, KIMMY!
She captioned the pic,
first selfie of 2017 w my mama
Oh god, how I've missed her.
Kim Kardashian snapped a few other photos and videos earlier in the day. She gave followers a preview of her ripped jeans, adding a picture of her thighs with the caption "torn."
She also posted a few photos and videos of her family all over Instagram, Snapchat and Twitter.
Keep 'em going, Kim! Give us more. I could look at Saint West's little face all day.
Kim Kardashian also shared home videos of her with Kanye West, North and Saint.
According to her Snapchats, the videos were part of a gift Kanye gave her for Christmas.
ARE YOU CRYING YET? BECAUSE I'M CRYING.
This is so emotional, I don't even know what to do with myself.
In case you have your doubts, you can rest assured Kim K is back on social media for good.  A source told Entertainment Tonight the reality star is definitely ready to return to the public eye.
The insider shared,
It was time for Kim to get back on social media and back to work. That is a huge part of her career. She has obligations to support her family and has an entire team working for her. It was time to get back to normal.
YASSS, QUEEN, YASS. Welcome back, Kim K. We've missed you.
Citations: Kim Kardashian First Selfie 2017 (ET Online)