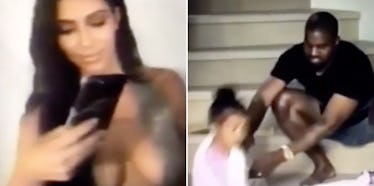 Kim K Is Finally Back On Snapchat With Sweet Videos Of Kanye And The Kids
Snapchat
It's finally happened. Kim Kardashian has finally updated her Snapchat for the very first time since the traumatic armed robbery in October of last year.
The 36-year-old star had been in a private suite in a hotel in Paris when she was reportedly robbed of nearly $10 million worth of jewelry.
Following the incident, Kim kept a low profile to close out 2016 after she was robbed at gunpoint during Paris Fashion Week.
Even when she did make a brief appearance, like she did weeks after the robbery, she was hardly recognizable.
Since then, Kim has taken to her official website and app to keep her fans busy with fresh content as she built up the strength to return to the spotlight.
The most recent offerings on her website include a bunch of new heartwarming family videos of her, Kanye West, North and Saint.
Clearly, the people wanted more because Kim just logged into her Snapchat account and shared MORE personal videos from her extensive collection.
Kim Kardashian returned to Snapchat with never-before-seen family home videos of her, Kanye and the kids.
Her focus to start the new year seems to be one word: family.
The highlight in the rare footage seems to be the moment Saint West threw up all over the place and North helped clean it up.
Of course, Kim's Snapchat wouldn't be Kim's Snapchat without her showing off her 'fit.
Yeah, she's back (whether you like it or not... but let's face it, you love it).
So, who can you thank for inspiring the release of such personal videos from both Kim and Kanye? Well, you can thank Kanye himself.
After all, it was him who first shared an epic mash-up of videos from Kim's childhood to celebrate her 36th birthday. Thank you, Kanye.
As for Kim, I'm sure her diehard fans are just thrilled to have her back.
I'll admit, social media's been pretty fucking boring without spontaneous #FreeTheNipple selfies and shameless jabs at Taylor Swift.