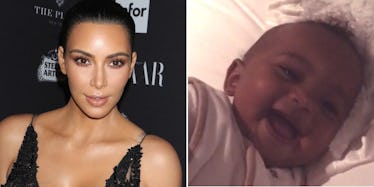 Kim Kardashian Tweeted A New Photo With Saint West And He Looks Adorable
REX/Shutterstock/Instagram
Kim Kardashian is officially back on social media and I couldn't be happier.
The moment I scrolled through Instagram and saw her name and photo, I threw pillows in the air and jumped around with excitement.
You think I'm exaggerating? LMAO OK THEN!!!
I have a life, don't @ me.
This all went down Tuesday afternoon. The big booty queen shared some cute images on Twitter and Instagram.
Then today, on Wednesday afternoon, Kim shared an adorable photo of her son, Saint West. YEAH, LIL SW.
In the picture, Kim is squatting down with her arms around little Sainty. They're in this mysterious empty room that sort of resembles an abandoned warehouse.
Cute!
She simply captioned it "my son" and added a heart emoji.
I'm one of those internet trolls who didn't think Saint West was a real baby for like, eight months.
I was convinced he was hiding in a dungeon alone eating crackers or something because we barely saw him in paparazzi photos.
I'm not joking, by the way. Like, I seriously thought that.
Anyway, the Kardashian-West fam has added more pics of their little nugget since my theory started. Just yesterday, Kimmy added a family photo of her with Kanye West, North and Saint.
She then spent the day responding to fans on Twitter and flooding our newsfeeds with heart emojis.
This was the first time Kim Kardashian officially returned to social media since being held up at gunpoint in her Paris Hotel room.
Two armed, masked men robbed millions of dollars worth of jewels from the reality star. It was a traumatic experience that made her take a break from social media, re-evaluate her life and step out of the spotlight.
However, a source told Entertainment Tonight Kim Kardashian is definitely ready to return to the public eye. The insider explained,
It was time for Kim to get back on social media and back to work. That is a huge part of her career. She has obligations to support her family and has an entire team working for her. It was time to get back to normal.
I'M INTO IT, KIMMY. WELCOME HOME!
Citations: Kim Kardashian Returns To Social Media (ET Online)