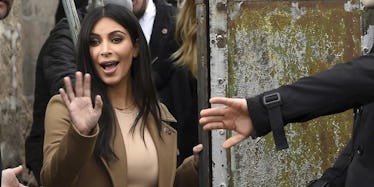 Um, What The Heck Is Going On With Saint West?
REUTERS/Hayk Baghdasaryan/Photolure
Guys, something WEIRD is going on with Saint West.
Oh, sorry. Do you not know who I'm talking about? Come on, I'm sure you remember Saint West. He's the child of Kim Kardashian and Kanye West.
No, no. You're thinking of North. Saint is the OTHER kid. The one who was born like, five months ago and we haven't heard about since.
YEAH, now you know who I'm talking about. So, where the f*ck is he?
Saint West was born on December 5, so that means he's like... almost half a year old now.
Since his birth, Kim and Kanye have only shared TWO photos of their son with the world.
The first photo was posted at end of February, which, OK, is understandable. I guess Kim and Kanye wanted their baby boy to have at least two months of privacy before his life gets totally taken over by the paparazzi. I GET IT.
The second photo was posted in early March, so about a month ago. BUT THAT'S LITERALLY ALL KIM HAS GIVEN US. The woman posts Snapchats on the reg, but we've barely even seen the kid's toes make it into a shot.
Even when North was just a little nugget, Kim and Kanye took FAMILY PHOTOS with her. Literally 30 seconds after she exited the womb, she became a baby celebrity.
So, what's the deal with Saint West? What is he doing? Where is he hiding? Is he even real? WHO IS HIS BABYSITTER?
I know I'm not the only one who's confused AF.
The people of the Internet feel me on this. We want answers, and we want them now!
SAINT WEST, CAN YOU HEAR ME?
WHERE ARE YOU, LITTLE GUY?
We miss you, baby Saint. Come back into our lives soon.