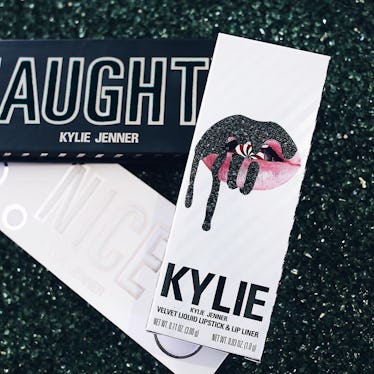 Kylie Cosmetics' Black Friday & Cyber Monday Sales Are Coming, So Lip Kits For Everyone
Kylie Jenner has been taking over the news lately. Alongside rumors of an unconfirmed pregnancy, her Kylie Cosmetics empire continues to outdo itself. With the holiday collection launching in two days, fans are buzzing about the possibility of Kylie Cosmetics' Black Friday & Cyber Monday sales. Frankly, Jenner better be nice and offer some sweet discounts, or she's going on the naughty list.
Ostensibly because she likes to give people heart attacks, Jenner has been known to announce Kylie Cosmetics sales mere hours before they start. Often taking a millennial-like approach to such announcements, Jenner is partial to using Instagram, Twitter, and Snapchat to get her followers' attention. Can I take a moment to have you imagine what it would be like to tap a finger on your phone screen and have millions of people react to whatever post you decide to bestow upon your minions? I'm just over here trying to get to 1,000 Instagram followers - SMH. Kylie Jenner was the last child to come from the gilded loins of one Kris Jenner, and she is making damn sure she's not counted as the least in any way.
In an attempt to pacify myself until Nov. 22 (when Jenner's holiday collection goes live on the Kylie Cosmetics site), let's take a look at her new products, and hope that they will be discounted on Black Friday and/or Cyber Monday.
Nice Is Not Just A Place In France
The first product that Jenner announced, via her Kylie Cosmetics Twitter page, was the Nice Palette. With eyeshadow names such as Miracle, Wonderland, Santa Baby, and Lullaby, this palette is definitely for the kind-hearted soul - i.e. all of you! Corniness aside, this palette is here to Slay, which is also the name of a glitter-packed gold shadow in it.
Naughty By Nature
No angel herself, Jenner is counteracting the Nice Palette with a sister Naughty Palette. The Kylie Cosmetics Instagram page posted a photo of the more devilish palette, showing off eye-catching hues with names like Mischief, Tipsy, and Xmas Kiss. I hate to rain on a Kardashian/Jenner parade, but I do have to point out that some of the colors in the two palettes look eerily similar. I'll have to compare pans like Glazed and Slay in person before I commit to buying both Naughty and Nice.
Each palette will sell for $44 once they become available on Nov. 22, and I can only hope they'll be restocked and discounted by Black Friday or Cyber Monday.
Spice Up Your Life
Never one to skip a lip launch, Jenner is remembering her beauty roots and gracing us with five new holiday lip glosses and liquid lipsticks. No word yet on how much these Spices will cost you - it's up to you if you want to pay top dollar up front or hold out for potential sales.
It's worth noting that last year on Black Friday, Kylie Cosmetics gave away some freebies with purchases - a branded stocking or a free lip gloss, depending on how much customers spent and which products they bought. As I believe, the Kardashian-Jenners are constantly trying to keep up with themselves, so it's quite likely that the youngest of the brood will up the ante this year with even more giveaways. Right now, the Kylie Cosmetics site teases a Cyber Monday surprise, but interested parties need to shell out $3 a month to subscribe to Jenner's app for info.
Given that Kylie Cosmetics is mostly an online empire, I predict Jenner may skip Black Friday and hold off for the online shoppers on Cyber Monday, Nov. 27. That will also give Kylie Cosmetics time to restock on the holiday products that will surely sell out on Nov. 22.
I've said this before, but here goes another plea for Jenner to hear me out: Can you please just make more? You know your millions of followers-turned-customers are going to buy it all! I understand the concept of keeping people wanting more, but when trying to buy a lip gloss practically turns into an episode of The Amazing Race, or Survivor for that matter, it's time to reevaluate your business plan. That is all, thank you and happy holidays.