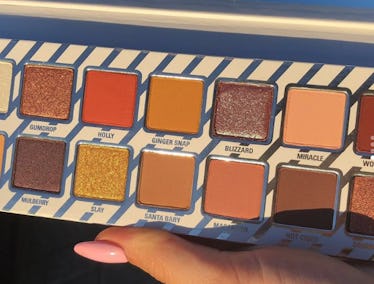 Kylie Jenner's Holiday Collection Will Make You Decide If You're Naughty Or Nice
@kyliejenner
Our favorite famous family, the Kardashian/Jenners, has gifted us in so many ways during the past 24 hours. First, Kim Kardashian West released her new perfumes, so we can smell fresh and fierce this holiday season. Never to be outdone, Kylie Jenner then teased the Kylie Jenner Holiday Collection, spurring everyone to wonder if they're naughty or nice.
It's hard to keep up with the Kardashians. After all, they're dropping hard-hitting beauty news left and right. Our bank accounts haven't begun to recover from the launch of Kim Kardashian's Crystal Gardenia fragrances and now we have to start saving up for Kylie Cosmetics' holiday makeup. And based on what I've seen thus far, you're not going to want to miss out on the two Kylie eyeshadow palettes, Bible. As a makeup addict, I own pretty much every palette that has ever launched, and I still want to buy these cheeky gems.
In true Kardashian/Jenner fashion, the collection is very saucy and full of holiday spirit. There's a "Nice" palette, which features shades like Gumdrop, Slay, and Wonderland shades. If you feel you definitely belong on the Naughty list, Kylizzle has got you, too. You'll want to smolder in the Coal, Unwrap Me, and Ho Ho Ho shadows from the "Naughty" palette. Is Santa blushing now, or is it just me?
In the past 24 hours, only the Kylie Cosmetics Instagram and Kylie Jenner herself have posted about the palettes. So, being the beauty Nancy Drew that I am, I took it on myself to gather as many Instagram images and screenshots of stories possible to give you the full peppermint scoop on this collection.
First of all, the boxes themselves are stunning. Jenner is definitely taking a fresh spin on holiday hues with silver, emerald, and white packaging. With the words Naughty and Nice so brazenly embossed, you'll really be declaring which list you're on.
The Nice Palette is a goody gumdrop dream. The silver and white packaging is so elegant and the diagonal stripes really scream "candy cane."
The shadows themselves are neutral, without being boring by any means. Classic bone and ballet slipper matte shadows are perfect for a softer look, while the shimmery shades like Blizzard, Gumdrop, and Wonderland really steal the show.
Just look how they swatch! That Jack Frost shadow is calling my name.
Don't these golden hues just make you feel all warm and fuzzy inside?
In a twist of fate, Blizzard (the shimmery pewter) is fire.
While the Nice palette is nice and all, the Naughty palette is gorgeous.
Aren't you just drooling over those intense metallics and earth-toned mattes? I'm seriously salivating.
In the iconic words of Manny MUA, it's "so pigmented."
That silver is so reflective I can almost see myself in it.
Mischief (the deep grey) will make the most perfect smoky eye that ever was.
St. Nick is a very unique red hue. It's almost a neon tomato red, if that's a thing?
Have you decided if you're naughty or nice yet? Better ask your friends, because Jenner's holiday collection will drop on Nov. 22, just in time for you to get your beauty Black Friday and Cyber Monday on.
We don't yet know how much the palettes will cost. All of the Kylie Cosmetics palettes come in varying shapes and sizes, but the most similar item from Jenner's previous collections is the Take Me On Vacation Kyshadow Palette ($52; kyliecosmetics.com). The Naughty and Nice palettes do have two less shadows and do not come with a brush, so we can only assume they'll be similarly priced, or maybe even less expensive. Let's all act Nice and hope for the best.