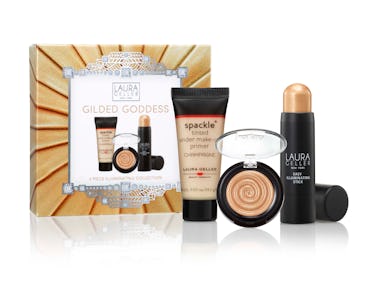 Your Black Friday Is About To Get Lit With These Insane Highlighter Deals
Laura Geller
The only thing better than applying an illuminator that allows you to shine with the power of a million of twinkling lights? Saving money. This holiday season, get the most bang for your buck with Black Friday highlighter deals.
If you're a passionate glow-getter, then you know you can never have enough illuminators. Whether it's dead in the middle of a hot and humid summer, or smack dab in center of a freezing cold winter, we all want to basically blind anyone who dares to gaze at us with our cheekbones. And this year, the day after Thanksgiving offers glowing highlighters and outrageously plentiful sales.
Maybe you're shopping for your bestie who's up on all the trends. Perhaps you're searching for the perfect highlight for your mom, so she can finally stop stealing yours (UGH). Or there might be a chance you're finally going to snag that Urban Decay Afterglow Palette that you haven't been able to afford all year. With these Black Friday deals, you'll be able to shine like the little glazed doughnut you are and also have some cash left over to buy an actual box of Krispy Kreme.
So get ready to save some dollars and glow for the gold.
Laura Geller
Gilded Goddess 3 Piece Illuminating Collection, $19, Ulta | Spackle Tinted Under Make-Up Primer in Champagne, $32, Ulta | Easy Illuminating Stick, $26, Ulta | Baked Gelato Swirl Illuminator, $26, Ulta
Laura Geller is not holding back this holiday season. If your goal is to glow so brightly that you'll blind your relatives as your fight over the last slice of pecan pie, then you'll want to snag the Gilded Goddess 3 Piece Illuminating Collection. This set of minis, valued at $54, will get you glowing this holiday season for less than $20. Smooth your skin's texture and prepare for highlighter with the Spackle Tinted Under Make-Up Primer in Champagne. Then, do some serious highlighting damage with the Easy Illuminating Stick and the iconic Baked Gelato Swirl Illuminator. Wear the illuminators separately for a naturally glowy look, or layer together for some serious shine.
Milk Makeup
Liquid Strobes, $24, Milk Makeup
On Black Friday, you can purchase all three of Milk Makeup's Liquid Strobes for a mere $30, which is only $10 per highlighter. These strobing liquids are full of crushed pearls, which give a super reflective finish to the skin. They come in rollerball form, which allows for quick highlighting on the subway, on the bus, or wherever you need to furtively refresh your lewk. You'll be getting all three shades: Beam, a gold hue, Ultra Violet, an iridescent lavender, and Aura, a light pink glow. If you love a brush-free illuminator, then make sure to snag these beauties on Black Friday.
Urban Decay
Naked Highlighting Fluid, $28, Urban Decay | Afterglow 8-Hour Powder Highlighter, $26, Urban Decay | O.N.S. Afterglow Highlighter Palette, $34, Urban Decay
If you've longed to try the Urban Decay Naked Highlighting Fluid, the Afterglow 8-Hour Powder Highlighter, or the new O.N.S. Afterglow Highlighter Palette, then this Black Friday will be the time.
Urban Decay is offering 25 percent off all products on their site, plus free shipping! If you buy UD makeup any other time of the year, you're downright silly. Prepare to shop to your heart's content and get enough glow to last you till next holiday season.
It Cosmetics
Sais Quoi Complexion Perfection Face Palette, $42, It Cosmetics
It Cosmetics is such a widely-beloved brand, you might as well treat yourself, your mother, or your brother to some of its magic. If you've never tried It Cosmetics before, Black Friday is the no-brainer day for a road test. When you buy $50 worth of makeup from the brand's website, you'll receive a free Je Ne Sais Quoi Complexion Perfection Face Palette. The palette contains their Sunshine in a Compact Matte Bronzer, Bye Bye Pores Blush, Bye Bye Pores Pressed Poreless Finish Airbrush Pressed Powder, and, most importantly, their Perfect Lighting Luminizer. That's everything you need to make your skin look epic AF.