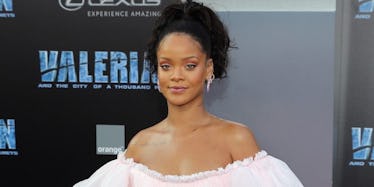 I Tried Rihanna's Fenty Beauty Highlighter & Now I'm Never Going Back
Neilson Barnard/Getty Images
Last night, a dark and massive navy shipyard in downtown Brooklyn got lit. Singer, designer, and all-around dream girl Rihanna threw a fabulous party, beckoning equally fabulous guests from body-positive model Iskra Lawrence to Insta-famous makeup artist Jeffree Star. The order of business? Introducing the world to her baby, Fenty Beauty, who arrived in pretty heavy fashion for a newborn: The brand's initial launch includes 12 different cruelty-free product formulations and a whopping 40 shades of foundation. Rihanna's Fenty Beauty highlighters, cleverly called Match Stix, come in 10 hues.
Fenty Match Stix Trio, $54, Sephora 
As a person who aims to pop dem cheekbones on the daily, I became woozy when I heard that figure. Ten different shades of glow-giving, baby-skin-bestowing, club-light-reflecting highlighter? Do I even have enough face for that? The venue was packed with glossy, impeccably-dressed influencers hitting up New York Fashion Week events, and well, I came straight from my job, still hungover from the night before. Rihanna arrived looking like a straight up sexy Belle from Beauty and The Beast, bra-less and jubilant in a yellow Oscar de la Renta gown. And oh, was her highlighter on point (courtesy of Fenty's Trophy Wife). With my underdog status cemented and my interest piqued, I knew what I had to do, for slightly-disheveled people at parties everywhere.
Fenty Killawatt Freestyle Highlighter in Trophy Wife, $34, Sephora 
I walked over to the displays, with products displayed so artfully they looked like the gardens of Versailles. Intimidated as I was, RiRi's address to the glitterati crowd served as a personal pep talk for me. "This is like a birthday party; this is like an album release," she cooed to the crowd. "So have fun, let loose, play with it — it's makeup, it's not serious, it won't bite."
Speaking to the brand-trained beauty pros, I learned that the Match Stix also come in Matte formulas meant to be used for contouring and concealing. Each of the Match Stix Shimmer Skinsticks harness mica to reflect light like crazy. Both the matte and shimmer varieties boast a long-wear cream-to-powder formula, which the brands says "LIVES to be layered." Another fun fact? The hexagonal cases are actually magnetized, so your concealer, contour, and highlight click together like a chic clique.
Even though it was only Thursday night, I was all, "cheers to freakin' weekend," and starting swatching away. My first victim was Yacht Lyfe, a pinky-peach reminiscent of NARS cult-classic bush, Orgasm.
NARS Orgasm, $39, Sephora 
Match Stix Shimmer Skinstick in Yacht Lyfe, $25, Sephora; Portable Highlighter Blush, $24, Sephora 
It went on so smoothly, so weightlessly, that I wasn't sure it was actually on until I started moving my hand in the light. That quality makes it pretty goofproof for highlighting newbies, who don't want to accidentally overdo it and scare their friends. Yacht Lyfe packs a golden punch for people who are into that, but I'm partial to silvery ice princess vibes. That's when I spotted Confetti, a pristine purple that called to my pastel, mythical, unicorn-loving soul.
Match Stix Shimmer Skinstick in Confetti, $25, Sephora 
That pearlescent, ever-so slight-purple? Oh baby. I couldn't be bothered with the Portable Highlighter Brush because I'm lazy and only marginally hygienic, so I just slapped that sucker directly on my skin in a C shape, from the outer corners of cheeks to my temples.
Portable Highlighter Blush, $24, Sephora 
Not only did it match my hair, it imparted a lit-from-within look that helped me look more polished, put-together, and deliberate. Instantly, I was less of the tired girl in a drab work dress at a celeb-level scene, and more of the girl with the cheekbones and vibrancy of Rihanna. I felt almost as poppin' as the $450 Ace of Spades Rose Brut we were sipping. All that from a five-second swipe of $25 highlighter? You da one, Confetti.
All images courtesy of Alana Peden