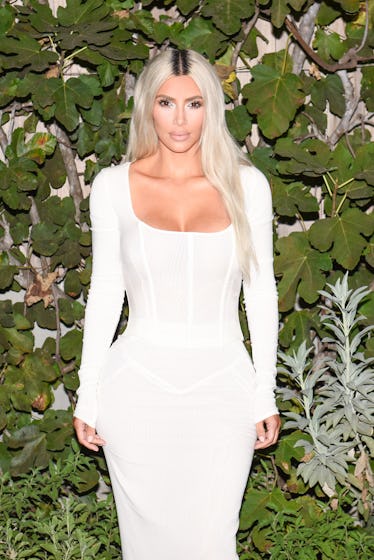 Kim Kardashian's New Perfumes Smell Like Flowers, Citrus, & Expensive AF Tree Mold
Courtesy of KKWBeauty
So far, you've been able over-line your lips like the Kardashians, smoke out your eyes like the Kardashians, and (k)ontour like the Kardashians. But now, with the launch of KKW Fragrance, you'll finally be able to smell like a Kardashian. But what does Kim Kardashian's perfume smell like? Balmain leather, Calabasas, and money? Not quite.
After a successful year of KKW Beauty cream and powder contour kits, the middle Kardash sister is taking on the world of fragrance. Real fans may recall that it's actually not Kimmy's first time at the scent rodeo. This is, after all, her eighth fragrance launch. Some of Kardashian West's previous scents have fittingly smelled like love, gold and glam. What does glam smell like, you might ask? I myself have the same question.
The launch of KKW Fragrance does mark the beauty business mogul's first crack at selling fragrances directly to consumers. This means that Kardashian West was able to control every little bit of her new fragrances, from the notes to the packaging and the prices. So these new KKW Fragrances will fully embody Kim Kardashian West in all her minimalist-chic glory.
Accordingly, Kardashian West wanted to choose a scent that really went back to basics. She settled on white florals, and in particular, gardenia. "I noticed that all of my sisters always revert back to my signature [namesake] fragrance, which is heavily white floral, so when I was making this fragrance, I knew that I wanted it to be heavily gardenia with white florals again," Kardashian told Cosmopolitan.com. Out of all the white floral notes in the world, Kiki's favorite scent ever is gardenia. So it make sense that she wanted the base of her new signature fragrance to be something so quintessentially Kim.
Kardashian West has also mentioned that the scent of gardenias reminds her of her father, the late Robert Kardashian. "It's my Dad's favorite flower, and it reminds me of when he'd take us to Hawaii — of that time in my life," she told Vogue. Gardenia is not only the most important flower to her, but also to her late father, so the addition of gardenia serves as a way to incorporate memories of him into the perfume. After all, smell is the closest sense linked to memory.
The KKW Fragrance line's signature scent is Crystal Gardenia. Of course, it contains notes of gorgeous gardenia, and has a top note of water lily. According the the KKW Beauty website, the water lily "evokes a lush, wet petal effect to the opening." Vogue also states that the signature fragrance has notes of tuberose, which is a favorite of Kim's mom, Kris Kardashian. Overall, it's a very clean scent, with only a hint of sweetness. Unlikely to offend anyone, you can spritz it whenever you want.
The second fragrance, Crystal Gardenia Citrus, has floral top notes with scents of orange oil and Bajes rose, as well as lemon oil and jasmine. If you're more into fresh and zesty fragrances, then Crystal Gardenia Citrus will be your preferred match. Also, who doesn't like a slightly tart scent?
The final fragrance, Crystal Gardenia Oud, was inspired by Kardashian West's frequent trips to and love of the Middle East. "I love the culture, and you smell oud in everyone's homes there. My Middle Eastern friends, like my makeup artist Hrush, wear it all the time," she told Vogue. For those of you that are unfamiliar with oud, it's derived from a highly fragrant resin that forms when a tropical agar tree is infected with a specific kind of mold. It may sound like a gross process, but the result is a warm and woody scent that is completely intoxicating. In addition to the oud, the fragrance will also contain notes of bergamot and lavender. If you like a more intoxicating, musky scent, then this one is for you.
The packaging itself was inspired by the healing crystals gifted by Kardashian West's friends after the Paris robbery in 2016. This was the first new project Kardashian had worked on since the incident and, accordingly, she wanted to give her fans the gift of serenity. And don't worry, the scents are all Kanye West-approved.
All of the fragrances will be available in a 75 mL size for $60, and Crystal Gardenia and Crystal Gardenia Citrus will be available in a 30 mL for $35. You can purchase all the fragrances on the new KKW Fragrance website at 10 a.m. PST on Nov. 15. Be sure to set your alarms, because if we've learned anything from our previous experiences with Kardashian beauty launches, all 300,000 units are sure to sell out fast.