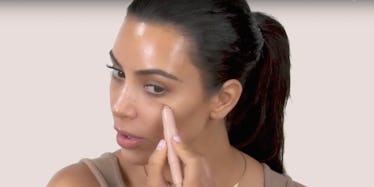 Here Are All The Ways Kim Kardashian's Powder Contour Kits Are Different Than The Crème
YouTube
Kim Kardashian's powder contour kits will officially be available for purchase at KKWbeauty.com Tuesday starting at 3 p.m. ET. The kits are the second product to come out of Kardashian's first-ever solo makeup line, following the crème contour kits released in June that sold out almost immediately. People are obviously going to compare the two products since they're so similar, so we've broken down Kim Kardashian's powder contour kit versus the crème so you don't have to.
Kardashian described the new contour, bronzer, and highlight palettes in an Instagram post, saying,
Powder Contour & Highlight Kits dropping next week! If I could only have one thing in my makeup bag, it would be my powder kit! There are two matte contour shades and two shimmer highlight shades in each palette and a new dual-ended brush with an angled side for contour and a round side for highlight. Plus each palette comes with a built in mirror. I'll use the lighter shade as a bronzer to warm up my face and the darker shade to contour and define. And the highlighters give the prettiest glow! I usually use the medium kit when I'm tan, and the light when I'm pale. Launching 08.22 on KKWBEAUTY.COM
So the most obvious difference between Kardashian's contour kits is... one is powder, and the other is crème. Easy enough. But they're also different in price ($52 before shipping) and come with a different applicator brush, though both of the brushes in the respective kits are dual-sided. The palettes also come with a huge mirror built in, which is nice.
These new kits also come with a matte bronzer — a feature Kim K's crème contour kits didn't include, although you could use one of the lighter sides of the contour stick as a crème bronzer. In a Q&A about KKW Beauty on Kim Kardashian's official website, Kardashian broke down the price of the kits, described what each palette will contain, and what she uses them for. She said,
Two matte bronzer and contour shades and then two shimmer highlighters. I use the lighter of the matte shades as an all-over bronzer to warm up my skin and then contour with the darker shade, but you can totally mix and match or switch it up. That's what I love about all my crème and contour products, and their brushes—they are all interchangeable.
She also gave tips on how best to use the powder contour kits. When asked which kit she prefers — the powder or the crème — she said,
Both [the powder and crème contour kits] work really well because the crèmes are smooth, buildable and creamy, so you can totally choose how deep you want to make your contour. Just layer or blend the two shades to get your desired look. I would definitely recommend the powders for light skin, as well, because you can go as light or as heavy as you want with a powder. Use the angled side to dust over the contour shade and then make sure you shake off the excess before brushing onto skin. I like to use my hands a lot, too, so I'll run the brush over hand before applying the powder to my skin. It just helps it apply more seamlessly. Also, there are two shades in every kit, so you can use one to warm up your face a little first and then the other to add definition.
So the KKW Beauty powder and crème contour kits basically accomplish the same task through different methods. When it comes to the differences between powder and crème products in general, people with oily skin should probably opt for the powder kits, as crème will only add to the oil on your face.
I have oily skin myself and found that the KKW Beauty crème contour kits made my skin more dewey, and not in the good way. I do like the sticks, but powder is better for my skin type. If your face is more on the dry side, the crème contour kits will help give your contour a smoother finish, but the powder kits will probably work just as well. I also find that crème contours tend to last longer throughout the day than powders do, but I definitely prefer powder highlighters above all else. So maybe my best bet is to use a combination of both of Kim K's contour kits?