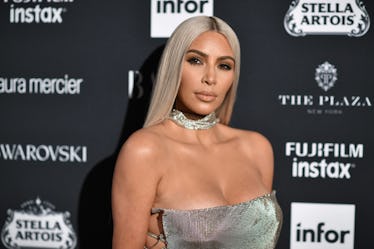 Kim Kardashian's Limited Edition Perfumes Are About To Drop & Here's The Exact Minute You Can Shop 'Em
Dimitrios Kambouris/Getty Images Entertainment/Getty Images
Get ready for the most important countdown of 2017, which incidentally, has more to do with Kim Kardashian West than any ball drop. You may have heard the beauty mogul is launching new products, but what time does Kim Kardashian's perfume drop? Get your credit card out and flex your online shopping fingers, because it's sooner than you think.
This blessed day, Nov. 15, will forever be known as the day Kim Kardashian West launched not one, not two, but three fragrances for the KKW Beauty brand. All the fragrances will contain notes of Kim Kardashian's favorite scent ever: Gardenia. According to the contour kit purveyor, "Kim Kardashian smells like white florals," which is good to know because I've always wanted to give her a whiff.
For Kimmy's first direct-to-consumer launch, this one-of-a-kind Kardashian really wanted a scent that would truly represent her. Gardenia was also the favorite flower of KKW's late father, the famous lawyer, Robert Kardashian. According to Kardashian West, gardenia evokes memories of her father and family trips to Hawaii, so the fragrance serves as a familial remembrance as well.
The first fragrance, Crystal Gardenia, is the line's signature scent. It also has notes of water lily, and tuberose, which is allegedly one of momager Kris Kardashian's favorite scents.
The second fragrance is Crystal Gardenia Citrus, which is the most fresh and energetic fragrance in the set. In addition to the signature gardenia, it contains notes of jasmine, orange, and lemon oil.
The third and final fragrance in the line is Crystal Gardenia Oud, which contains notes of gardenia and heady, sultry oud wood. Crystal Gardenia Oud will also have notes of bergamot and lavender, so it's undoubtedly the sexiest of the lot.
All three fragrances come in faux crystal bottles. Kim said she was inspired by the healing crystals her friends gave her following her Paris robbery in 2016. She wanted the line to evoke a sense of calmness and serenity, a zen escape Kim had to find for herself after that dark time in her life. "I just loved [how] the properties of the rose quartz and citrine bring happiness, and it just meant so much to me to look into what crystals mean and their healing properties," Kardashian told Entertainment Tonight. Kardashian wanted to give her fans the same sense of calm that her friends gave her, so she decided to package the fragrances as healing crystals.
Perhaps Kiki's biggest kindness to her fans is that the prices for the Crystal fragrance collection really won't break your piggy bank. It's a mere $60 for a 75 mL bottle of any of the three scents, or $35 for a 30 mL bottle of Crystal Gardenia or Crystal Gardenia Citrus. Not horrendous considering the cost of designer fragrances can hurt one's wallet.
If the scents, the packaging, and the pricing have inspired you to purchase the newest KKW creations, then you better have your (k)redit (k)ards ready. The fragrances launch Nov. 15 at 10 a.m. PST (or 1 p.m. EST) on Kardashian West's new website, kkwfragrance.com. That's 1 p.m. for all my fellow New Yorkers. Set your alarms because you won't want to miss out.
Assuming this fragrance launch is anything like KKW's other launches, I can safely predict that it will sell out immediately. But, unlike her other permanent contour kits, Kardashian West has no plans to restock her scents. According to Women's Wear Daily, once the stock is gone, you're SOL. The mom of nearly-three is in the works to launch an entirely new line of fragrances come February, just in time for Valentine's Day.
So if you've always longed to smell just like Kim Kardashian West, aka like white florals, set your alarms for 10 a.m. PST immediately. Then, start cracking those online shopping fingers because you don't want to miss this limited-time only launch.