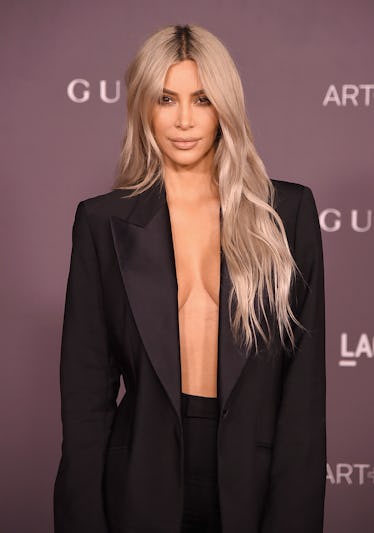 Kim Kardashian Is Launching THREE Perfumes Today & You Won't Believe How Much They Cost
Kevin Winter/Getty Images Entertainment/Getty Images
By now, you've probably heard that the much-anticipated KKW Beauty fragrances are launching on Nov. 15 at 10 a.m. PST. Maybe you already have a browser window open the brand's site, ready to pounce the second they go on sale. Or maybe you're asking yourself, "How much does Kim Kardashian's perfume cost?" before you decide whether or not to take the plunge.
First things first, Kim Kardashian West is actually blessing the world with three perfumes, not just one. Each of the three fragrances is rooted in a gardenia base, which has sentimental value to Kardashian West. According to ELLE, a release by KKW Beauty revealed that gardenias are her favorite flowers and remind her of her late father, who once gave her a gardenia perfume upon returning from a business trip to New York. "It's one that I still have and I treasure the memories that it evokes when I see the bottle," she said.
The KKW signature scent (main fragrance) is Crystal Gardenia, which has a top note of water lily and "evokes a lush, wet petal effect to the opening," according to her website. Then there's Crystal Gardenia Citrus, which has floral top notes and facets of orange oil and rose; and finally Crystal Gardenia Oud, which has notes of bergamot and lavender, and was inspired by the Middle East. As someone who loves light floral perfumes, I must admit I'm down to give each one a try.
It's also worth mentioning that I usually hate the appearance of perfume bottles, even designer ones. I think they are overwhelmingly gaudy, cheesy, or impractical. Kardashian West's versions are actually pretty cool though; I wouldn't mind displaying one on my dresser or desk. Crystalline in shape and color, they are meant to rest lengthwise on their sides rather than standing upright. Evidently, after Kardashian West was robbed at gunpoint in Paris last year, her friend's began gifting her healing crystals to help her work through the experience. It seems they made lasting impression.
Unlike the score of fragrances she's previously released, which very much fit the bill of cheap celeb perfumes you might buy at Walgreens, these new scents seem to be incredibly personal, not to mention enjoyable to wear.
Their launch will undoubtedly "break the internet", so to speak, which, if you think about it, is kind of insane; when was the last time you bought a fragrance without taking a whiff of it first? The whole purpose of perfume is to make you smell good, and it's known that different people's body chemistries mix differently with various scents. Essentially, you'll never know if something will work for you unless you try it. But that's the entrepreneurial power of the Kardashians; they seem to have a knack for selling you things that, while good in quality (Kylie's Lip Kits got rave reviews), you don't actually need, and might not buy without their namesake stamped on them.
If the first round of KKW fragrances does sell out, the profit is to be a reported $14.3 million. Woah, Kiki. Although the bulk of the sales will take place online at KKWBeauty.com, Violet Grey's store on Melrose Place in Los Angeles will be stocking a small offering of bottles IRL. So if you live in California, it might be time to take a mini road trip before they fly — or are forcefully snatched — off the shelves.
At $35 for a 30ml bottle, and $60 for a 75ml bottle, each of the three perfumes is actually pretty affordable, meaning if you want to get your hands on one, you will likely need to act at the speed of light. According to WWD, only 300,000 bottles of the perfume were made, and once they sell out on KKW Beauty's website, they will not be replenished. How's that for a hot commodity?
If you don't get your hands on a bottle of Kardashian West's elixir this time around, fear not. She is reportedly releasing a second trio of scents in February, making them the perfect Valentine's Day gift. Pressure is on, boyfriends of the world.