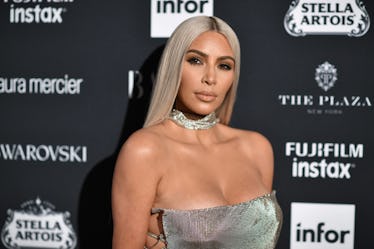 Kim Kardashian's Perfume Bottle Actually Has A Really Heartbreaking Meaning
Dimitrios Kambouris/Getty Images Entertainment/Getty Images
Kim Kardashian has added a new project to the pot, and it comes as no surprise. The starlet is set to release her newest perfume line from KKW Fragrance. Yes, Kim K has had her name attached to (what feels like) millions of other fragrances before, but this time around it's extremely special. This is the first fragrance that is born and raised by Kardashian herself — no collaborations needed. One thing that has gotten a lot of attention is the unique look of the bottle. The meaning of Kim Kardashian's perfume bottle is actually really surprising.
If you follow Kardashian on any social platform you have seen A LOT of promotion for her three new fragrance scents: Crystal Gardenia, Crystal Gardenia Citrus, and Crystal Gardenia Oud. In my opinion, the packaging is really pretty and very different than anything I've seen before.
Obviously, the bottle itself is shaped like a giant crystal. The first thing that struck me about the bottle shape is that it doesn't look like it stands up on it's own. I'm kind of obsessed with the idea that it looks like a giant healing crystal, so I'm OK with this.
The rest of the packaging is very clean, sleek, and crystal-forward. According to Kardashian, the perfumes will even be packaged with a few crystals — so chic.
Surprisingly, the inspiration behind the crystal look actually goes back to Kardashian's infamous Paris robbery. Kardashian explained the connection during an interview with Entertainment Tonight. She said,
After my whole Paris situation over a year ago, all my friends would come over and bring me healing crystals. I wasn't really into them. I didn't know much about them. Enough people brought them over that I love the shape, I loved holding it, and I felt like, 'OK, this is it. I want something that I feel like calms me, is healing...' And I wanted the bottle, especially the smaller one.
Kardashian continued by saying the crystals brought her happiness. I'm sure she's hoping it will bring the same feeling to customers. She went on,
It felt so pure to me. I just loved [how] the properties of the rose quartz and citrine bring happiness, and it just meant so much to me to look into what crystals mean and their healing properties.
Personally, I was really surprised by this connection. I appreciate the fact that Kardashian created a fragrance that had true personal meaning behind it.
As for the scents, Kardashian used the word "timeless" to describe them while answering questions on Twitter. If you're wondering what the perfumes actually smell like, Kardashian says,
In my signature scent, Crystal Gardenia, the top note is water lily that evokes a lush, wet petal effect to the opening. Crystal Gardenia Citrus has floral top notes with sweet facets of orange oil and bajes rose. And Crystal Gardenia Oud, which is inspired by the Middle East, has captivating notes of bergamot and lavender.
I legit don't know what half those things are, BUT I'M HERE FOR IT. The description makes them all sound so light and elegant.
The prices are surprisingly reasonable as far as fragrances go — $60 for a 75 mL bottle (applies to all three scents) and $35 for a 30 mL bottle (applies to Crystal Gardenia and Crystal Gardenia Citrus).
I'm not surprised that Kardashian has taken her talents to the fragrance world. It seems like such an obvious next step after KKW Beauty. I'm sure it will sell out in literally minutes, so if you're hoping to snag a bottle you better stay diligent.
Kardashian is basically taking over the beauty world (and my medicine cabinet) one product at a time. I can't wait to see what's next.
Check out the entire Gen Why series and other videos on Facebook and the Bustle app across Apple TV, Roku, and Amazon Fire TV.