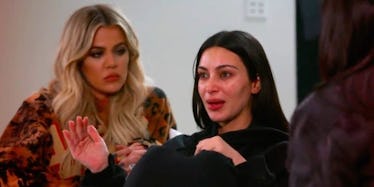 Kim K Finally Opens Up About Robbery: 'They're Going To Shoot Me In The Back'
E! Entertainment
Kim Kardashian has finally broken her silence on being held up at gunpoint in her Paris hotel room.
In a new exclusive clip for "Keeping Up With The Kardashians," the mother of two opened up about the terrifying experience to her sisters Khloé and Kourtney.
In the video below, you can hear a teary-eyed Kim Kardashian recall the incident. She told her sisters,
They're going to shoot me in the back... There's no way out. It makes me so upset to think about it.
Kim Kardashian was visiting France for Paris Fashion Week when the terrifying incident occurred.
Two masked men dressed as police officers broke into her private mansion and reportedly stole roughly $10 million worth of jewels.
Kim Kardashian was tied up and locked in her bathroom by the armed robbers and had to plead for her life.
A source told E! News,
She begged for them to let her live and [said] she has babies at home. Then they wrapped her mouth in tape and put her in the bathtub. She thought they were for sure going to kill her.
Kim's rep said the star was physically unharmed but was "badly shaken" by what happened.
Reports revealed her bodyguard, Pascal Duvier, was out protecting Kim's sisters on the night of the robbery.
Kourtney Kardashian and Kendall Jenner were out partying in Paris while Kim stayed in for the night. Pascal escorted the sisters as they hit the town together.
In addition, Kanye West was performing in New York City when the robbery happened.
The rapper was headlining the Meadows Music & Arts Festival when he had to cut his set short due to a "family emergency."
When Kanye West starts Heartless and then stops the show because of a family emergency pic.twitter.com/0xiPDycb4g — Chloe (@itschloet) October 3, 2016
Kim Kardashian officially returned to social media at the start of the New Year. She's posted several images of her family on Instagram, Twitter and Snapchat.
"Keeping Up With The Kardashians" returns to E! in March, so it looks like we'll have to wait until then to hear Kim fully share her story.
Subscribe to Elite Daily's official newsletter, The Edge, for more stories you don't want to miss.
Citations: Kim Kardashian Jewels Stolen (Daily Mail), Kim Kardashian Breaks Silence On Robbery (E Online)