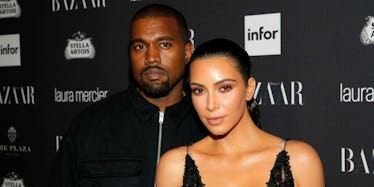 Kim Kardashian And Kanye West Make First Appearance Since Paris Armed Robbery
REUTERS
Kim Kardashian is going to be OK.
As you can see in the video above, Kim Kardashian and Kanye West are both safely in New York City following the traumatic events that happened in Paris.
ICYMI, Kim Kardashian was held up at gunpoint by men posing as police officers in her hotel room in Paris, France.
The incident reportedly occurred early Monday morning, and the thieves are believed to have stolen roughly $10 million worth of jewelry from Kim K, who was in France for Paris Fashion Week.
TMZ was on the scene as Kanye West, Kim Kardashian, Kris Jenner and Corey Gamble pulled up to their NYC apartment with no less than 15 bodyguards surrounding them.
The NYPD was also present as Kim and Kanye made their first appearance since the Paris armed robbery.
According to TMZ, Kim's bodyguard, Pascal Duvier, who reportedly wasn't present when the robbery went down in Paris, was with the couple when they arrived home in New York.
Following the robbery, Kim Kardashian's spokesperson, Ian Treciokas, revealed she wasn't physically injured in the heist, saying,
Kim Kardashian West was held up at gunpoint inside her Paris hotel room this evening, by two armed masked men dressed as police officers. She is badly shaken but physically unharmed.
Upon learning of his wife's horrific ordeal, Kanye West cut short his concert at the Meadows Music & Arts Festival in Queens, New York.
In this video, you can hear Kanye say to the crowd,
I'm sorry, there's a family emergency. I have to stop the show.
When Kanye West starts Heartless and then stops the show because of a family emergency pic.twitter.com/0xiPDycb4g — Chloe (@itschloet) October 3, 2016
Later Monday morning, TMZ was on the scene as Kanye West ran out of his apartment building, presumably to join Kim Kardashian's side. This was his first appearance since being on stage at Meadows just hours earlier.
According to TMZ, Kanye left his apartment to go pick up Kim at the airport; it appears she left Paris very soon after the robbery occurred.
As you can see from TMZ's video, Kanye West, surrounded by security, looked more than a little shaken up by his wife's traumatic robbery.
I mean, just imagine getting ready to perform for thousands of fans and then learning your significant other was just robbed at gunpoint as thieves made off with $10 million in stolen jewelry.
Thankfully, it looks like Kim Kardashian is going to be OK.
Citations: KANYE WEST RACING TO KIM'S SIDE (TMZ)