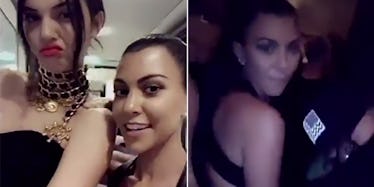 Kim Kardashian's Bodyguard Was With Her Sisters The Night Of Armed Robbery
Snapchat
A new report says Kim Kardashian's bodyguard was not with her the night she was robbed in Paris.
According to TMZ, Pascal Duvier was protecting Kendall Jenner and Kourtney Kardashian when the armed men broke into Kim's hotel room.
The source says Kim had stayed in for the night, while her sisters partied it up in Paris.
A Snapchat video shows Kendall and Kourtney leaving in an elevator to begin their night out on the town.
Pascal reportedly escorted Kenny and Kourt throughout the night, while they danced it up in the clubs.
The two seemed to enjoy their time before they learned about the terrifying news surrounding their sister.
New details also reveal that Kim Kardashian pleaded for her life the night she was robbed. The 35-year-old reality star was gagged and bound before being locked alone in her bathroom.
A source told E! News,
She begged for them to let her live and [said] she has babies at home. Then they wrapped her mouth in tape and put her in the bathtub. She thought they were for sure going to kill her.
Kim Kardashian's bodyguard was able to protect her last week, when a fan assaulted her in the streets.
Celeb prankster Vitalii Sediuk ran up behind the 35-year-old reality star and attempted to kiss her butt while she was walking from her car.
Footage shows Pascal tackling the man to the floor so that Kim could escape safely.
Kanye West was not with Kim for either incident. On Sunday evening, the "Famous" rapper headlined a music festival in Flushing Meadows, Queens.
He cut his set short and ran off the stage in the middle of performing "Heartless" due to a "family emergency."
When Kanye West starts Heartless and then stops the show because of a family emergency pic.twitter.com/0xiPDycb4g — Chloe (@itschloet) October 3, 2016
The couple has not yet commented on the armed robbery. Our thoughts and prayers are with Kim and her family during this time.
Citations: Kim Kardashian Bodyguard Gunpoint (TMZ)