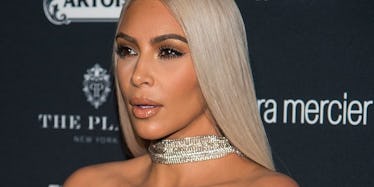 Kim Kardashian Breaks Her Silence On Kylie's Reported Pregnancy With A Random Tweet
Michael Stewart/ Getty Images
On Friday, Sept. 22, Kim Kardashian's little sister nearly broke the internet. Kylie Jenner, 20-year-old lip kit guru and girlfriend to Travis Scott, is reportedly pregnant with her first child. It's been reported the reality star is expecting her rapper boyfriend's baby, and fans are officially losing it. Let's just say it's about to get really, really tough to keep up with the Kardashians. Speaking of the famous family, let's talk about Kim's response to Kylie Jenner's reported pregnancy. Although she didn't directly address Kylie's pregnancy rumors, Kim posted a super random tweet about a seahorse, and Twitter is confused.
Elite Daily reached out to Kim Kardashian's team for comment, but did not hear back by the time of publication.
The picture Kim tweeted amongst her sister's pregnancy rumors on Saturday, Sept. 23 shows a seahorse holding onto a Q-tip. The caption reads, "Look at this little seahorse swimming in our polluted waters. This is the world we are creating." While I do understand that polluted water is a bad thing, I'm also confused why she chose to post a picture of a cute little sea creature instead of her rumored-to-be-pregnant sister. To be honest, so many people on Twitter are thinking the same thing.
"Okay yes pollution is real but I need answers about Kylie's pregnancy."
"Is Kylie pregnant or not? We need answers."
People think it's just a distraction.
Is Kylie the surrogate? IS SHE?!?!
As you can see, people are bypassing the seahorse and going straight to Kylie.
At this point, Kim Kardashian is a pretty experienced mother-of-two, and I don't have any doubts in my mind that she'll be there for Kylie throughout the upbringing of her baby's childhood (even though she hasn't said anything yet). Plus, North and Saint West are bound to be some pretty rad cousins, and I can't imagine how much fun their family parties are about to get. However, if the rumors are true, Kylie's daughter (or son) might have another cousin on the way. Recently, it's been no secret Kim Kardashian and her husband, Kanye West, have been trying to have a third child. But Kim has made it clear that she's struggled with past pregnancies, and that she was exploring surrogacy options for her third one.
Take that information and hold it close, because I'm about to blow your mind with a new conspiracy theory that began on Friday night when news broke about Kylie's pregnancy. Knowing that Kim is reportedly having another child through a surrogate mother, fans quickly jumped to conclusions and began to think Kylie is Kim's surrogate. YUP. This is the internet, people, and fans immediately jumped to conclusions about the bizarre theory on Twitter.
See?! This isn't too far fetched... right?
Whether Kylie is the surrogate or not, I'm sure Kim will be a very loving auntie to Kylie's newest Kardashian.
So, speaking of the newest Kardashian, we all have one question we need to have answered: Will Kylie's baby be a girl or a boy? Sources claimed to TMZ that Travis told his friends they're expecting a baby girl. However, TMZ cannot verify these claims. Whatever the gender may be, this little kid is about to be showered with Kardashian love (and lip kits).
If you feel like you've been totally in the dark about this pregnancy, have no fear, because we all were. In fact, TMZ reports Kylie only started telling friends about the pregnancy earlier this month at the Day N Night Fest in Anaheim, California. Apparently, 25-year-old Travis Scott has been spreading the word to his close ones, too.
Talk about keeping a secret, sheesh.
Accoring to People, an unnamed source said Kylie and Travis are due in February, and that "the family has known for quite some time." The source also said Kylie is "really excited and so is Travis." Well, damn. We're happy for them! And still completely shocked!
Another source told Page Six that Kylie has "been looking pregnant for about four months." FOUR. MONTHS. How in the world did she keep this secret from us?!
Anyway, I'm sure Kim Kardashian and the rest of the family will be super supportive once Kylie's baby is born in February. In the meantime, we hope Kim tweets about the pregnancy without any nautical distractions.