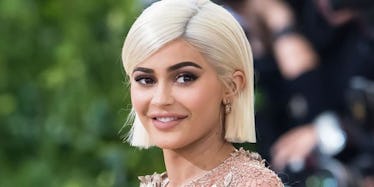 Kylie Jenner Is Reportedly Pregnant & We All Have One Question We Need Answered
Gilbert Carrasquillo/Getty Images
Just when I thought this lovely Friday was going to end without a bang, Kylie Jenner news metaphorically hits me in the face, as it generally does, because I'll be the first to admit, IT IS HARD TO KEEP UP WITH THE KARDASHIANS. But Kylie is reportedly pregnant with her and her rapper boyfriend Travis Scott's baby, sources have claimed to TMZ. But the real question is, is Kylie Jenner having a boy or a girl? Well, sources claimed to TMZ that Travis Scott has told friends he and Kylie are having a girl. Though, TMZ reports that they haven't been able to verify these claims.
Update: On Sunday, Feb. 4, Kylie Jenner confirmed her pregnancy in an Instagram post. She welcomed a daughter on Thursday, Feb. 1.
Earlier: Elite Daily reached out to both Kylie and Travis' teams for comment on reports, but did not hear back by time of publication.
But anyway, let's go over everything we know, shall we? So basically, according to both TMZ and People, 20-year-old Kylie and 25-year-old Travis supposedly began sharing this pregnancy news with their friends a few weeks back. "They started telling friends a few weeks ago," an unnamed source claimed to People. "The family has known for quite some time. She is REALLY excited and so is Travis!" WELL, I'LL BE DAMNED.
Another source claimed to Page Six, "She has been looking pregnant for about four months." FOUR MONTHS? IF THIS IS TRUE, YOU MEAN TO TELL ME KYLIE HAS KEPT THIS A SECRET FOR THAT LONG? No, I refuse to believe this, and that's saying something. Hell, I believe in ghosts more than I believe in this stuff happening right now, but anyway.
According to the source who spoke to People, Kylie is reportedly due to give birth in February, which pretty much checks out with the whole "four months" thing, and is still blowing my damn mind. TMZ reports that Kylie has been with Travis since back in April of this year. And while we still don't know if all of this is true or just a made-up rumor meant to high-key ruin my life, if it is true, DAMN DO THESE TWO MOVE FAST. I mean, if Kylie and Travis just started dating back in April — about five months ago — and she's now reportedly around four months pregnant, I guess Kylie and Travis wasted absolutely no time, is what I'm saying.
But hey, love is crazy sometimes. I mean, Kylie and Travis also wasted no time in getting matching butterfly tattoos back in June. Fans think these tats may have been related to Travis' song "Butterfly Effect," which they also think is about Kylie.
Again, while nothing has been confirmed yet by Kylie, Travis, or their families, Page Six reports that the Kardashian family should be confirming the news today, and, like, can they do it now? Quickly? I haven't stopped hyperventilating for about 30 minutes now, and my blood pressure cannot take this.
Anyway, what do Kylie and Travis have to say about this? What does Kylie's ex Tyga have to say about this? What do Kim, Kourtney, and Kendall have to say about this? MORE IMPORTANTLY, WHAT DO KHLOÉ AND KRIS HAVE TO SAY ABOUT THIS? Well, whatever it is, it looks like the Kardashian clan will have no shortage of babies running around, as Kim and Kanye are hoping to have a third baby soon as well. While rumors swirled around that Kimye would be doing so through a surrogate, Kim told E! News,
I've definitely seen a lot of things, we've never confirmed anything. So, I think when we're ready to talk about it we will, and I think it's super invasive when people are just... So many details out there, and like I've never heard this, I've never heard this. Like whatever. We have not confirmed it, and that's that. I'll let you know when we're ready.
So is Kylie Jenner actually pregnant? Who knows. Until a member of the Kardashian clan, or Kylie or Travis, confirms the news, it looks like we'll just have to wait to find out. RIP my blood pressure.