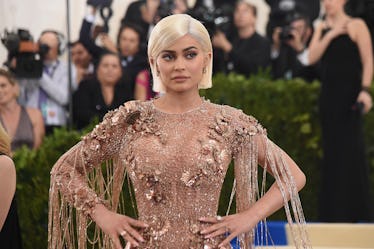 Kylie Jenner Might Have Clapped Back At Those Pregnancy Rumors & We're So Confused
Nicholas Hunt/Getty Images Entertainment/Getty Images
Ever since rumors first started swirling of Kylie Jenner's supposed pregnancy, everyone has been hungry for a confirmation from the youngest member of the Kardashian-Jenner clan. But the reality star and all other Kardashian-Jenners have kept mum on the matter. Well, the most recent photos that have surfaced have Kylie claiming that they were photoshopped. Kylie Jenner responded to maybe-photoshopped pregnancy photos by clapping back on Twitter, but the rumors haven't slowed down one bit.
UPDATE: The photo in question that Jenner responded to has been banned from Twitter. You can still see the photo here.
EARLIER: Kylie Jenner was photographed by paparazzi on Nov. 5 while boarding a private jet with sisters Kendall Jenner and Kourtney Kardashian to head to mom Kris Jenner's birthday celebration. The Daily Mail published the photos to its site and speculated that there is a very visible baby bump underneath the makeup mogul's baggy black sweatshirt. And although fans have spent weeks wondering whether Jenner is or is not pregnant without any confirmation, the reality star finally responded to this most recent report — kind of.
In a tweet, Kylie Jenner posted some of the pictures that appeared in the Daily Mail and accused the site of photoshopping the images, supposedly to make her look bigger and imply that she is pregnant. She wrote in the tweet:
First of all if you're going to photoshop my photos blogs/paps!! Check for the crooked lines in the background.2nd photo is clearly altered
The Daily Mail denied that the images had been photoshopped: "DailyMail.com can confirm the pictures have not been digitally altered," the story said.
And anyway, Jenner's response didn't exactly address what the actual photo suggests. It's confusing that she commented on the images without actually talking about what the Daily Mail and the rest of the world wants answered: Is she pregnant or isn't she?!
Twitter users were also not having it, but for very different reasons. Fans are increasingly growing frustrated with Jenner and her family's silence on the matter.
They have questions, Kylie. And they're demanding answers.
The shocking rumors first began back in September, when TMZ reported that sources close to Jenner's boyfriend, Travis Scott, said that Jenner was pregnant. While we aren't exactly sure how long the two have been an item, we do know that they've been seeing each other since at least April 2017. The couple was spotted holding hands at Coachella and also attended a Houston Rockets game together. The romance blossomed following her breakup with on-again-off-again boyfriend Tyga, which happened sometime at the end of March.
In the few short months that we've known of Kylie Jenner and Travis Scott's relationship, pretty much nobody expected that a pregnancy was imminent. And with still zero official confirmations from Jenner, Scott, or anyone else close to the famous family, it seems like we won't find out until the baby's born (or not).
Jenner isn't the only Kardashian-Jenner sister who is reportedly expecting.
Kim Kardashian-West and Kanye are rumored to have hired a surrogate to carry their third child. The decision to go through with surrogacy comes after Kim had difficult pregnancies with daughter North and son Saint. She suffered from a condition called placenta accreta, and was told that another pregnancy could be life-threatening. Though Kim K confirmed that the two are having a third baby on a promo for the third episode of Keeping Up With The Kardashians, the couple has not confirmed if they're using a surrogate.
Khloé Kardashian is also rumored to be pregnant with boyfriend Tristan Thompson. Khloé and her NBA boyfriend have been dating for a little over a year and she claims that she's been in the best relationship of her life. Neither of the two have confirmed these rumors either. All we got was a crypic tweet from Thompson, where he posted two eyeball emojis.
As we patiently await the possible births of all of these future Kardashian-Jenner crew members, we can only hope that we'll get confirmation of the rumors in the near future. We're currently in season 14 of KUWTK, so maybe answers to these burning questions will reveal themselves one of these Sundays. That seems like the Kardashian way.