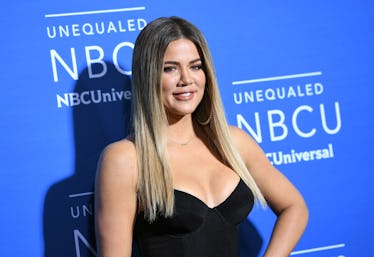 Khloé Kardashian & Tristan Thompson Make First Appearance Following Pregnancy Reports
ANGELA WEISS/AFP/Getty Images
Khloé Kardashian and Tristan Thompson — we're watching you! The couple was seen out together (finally!) for the first time since Khloé's reported pregnancy news. The pictures of Khloé Kardashian and Tristan Thompson out in Cleveland are cute, but could they mean more?
If you've been on Kardashian baby watch the past couple weeks — aren't you exhausted? Me too. On Tuesday, Sept. 26, Us Weekly broke the news that Kardashian is reportedly pregnant with Tristan Thompson's baby.
Elite Daily reached out to Khloé's team for confirmation but did not hear back by the time of publication.
Kardashian has been dating Cleveland Cavaliers power-forward Tristan Thompson for more than a year and the two seem very much in love. Neither Kardashian nor Thompson have made a statement about the alleged pregnancy. I mean, HOW HAVE NEITHER OF YOU COMMENTED ON THIS MOMENTOUS NEWS?
Before these pictures of Kardashian and Thompson out and about in Ohio surfaced, there were only a few cryptic tweets to vibe off of. Thompson was the first to post on Twitter after the reported pregnancy news broke. On Tuesday, Sept. 26, Thompson posted two sets of eyeball emojis. Like, WTF are we supposed to do with that?
This tweet was generally interpreted in three ways: Tristan was either giving the side-eye to Khloé's pregnancy reports (saying they're not true), looking at them like they are true, or he was talking about his teammate, Dwayne Wade. Hmmm... He followed that tweet by saying,
Can't wait for the season to start!!!!
That Tristan Thompson is tricky. Even stranger was Kardashian's response. The next day, Wednesday, Sept. 27, Khloé finally broke her social media silence to talk about her eggs. No, not those eggs... just breakfast.
To answer your question — no, this is not some sort of mysterious message that KoKo wants us to unravel, it's just a healthy recipe from her app. The Kardashians are used to having literally everyone talking about them all the time, so apparently they don't feel the need to address anything. I'M A PERSON WITH NEEDS, TOO.
The Season 14 premiere of Keeping Up With The Kardashians graced our lives on Sunday, Oct. 2 and featured a peek into Khloé and Tristan's life in Cleveland. There was a very brief conversation about the possibility of Khloé and Tristan having kids together. Kardashian explained, "When you make plans, God laughs," and said she could have kids with Tristan "in the next 70 years." OK, not super helpful and extremely anti-climactic. One thing is for sure — Kardashian is in it for the long haul.
Since the pregnancy has not been officially confirmed, it's great to see Khloé and Tristan out together. They both looked super comfy wearing hoodies and laughing together. Khloé was wearing looser clothing and kept her arm in front of her midriff — no way to tell if there is a baby bump.
Khloé's reported pregnancy came as less of shock than Kardashian's younger half-sister, Kylie Jenner. Khloé has openly talked about the possibility of having kids one day with Thompson. On the Season 13 finale of KUWTK, Khloé admitted,
He wants to have, like, five or six kids with me, and that's lovely. We could start at one and then grow from there. But now, knowing I'm not on birth control, it's really scary. It's like a really big step.
All of that sounds like a definite recipe to make a baby. Whether these reports are true or not, I'm sure Khloé and Tristan have a long future ahead of them.
I really hope Khloé and Tristan start responding to pregnancy rumors soon because I don't know how much longer I can live without knowing. PLEASE, KOKO.
Check out the entire Gen Why series and other videos on Facebook and the Bustle app across Apple TV, Roku, and Amazon Fire TV.