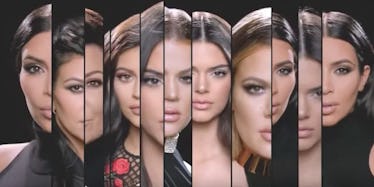 Khloé Kardashian Talked About Having Babies On 'KUWTK' And It Was Not Helpful
Youtube
Buckle up, America. The Kardashians are back with Season 14 of Keeping Up With Kardashians, and this time we are blasting in with some massive questions and anticipating some big moments on camera. The world has been standing by, waiting with bated breath for new episodes, new drama, and new insight into our favorite family as it's been one of their wildest summers yet. Somehow, just when you think the Kardashians have reached pinnacle fame, something new and insane happens that we could have never imagined, and their exposure grows even more. But on Oct. 1, on tonight's episode of KUWTK, fans were left hanging as no-one confirmed the pregnancies of Khloé or Kylie, (especially Khloé.)
By now, you've heard about Rob Kardashian's Instagram rant against ex Blac Chyna, Kim's alleged surrogate, Scott's massive meltdown, Kourtney's new boyfriend, Kendall's Pepsi commercial and Khloé and Kylie's rumored pregnancies – but what will they show us on camera?! Based on the teaser Kim recently shared on Twitter, it looks like a good amount.
After the craziest week filled with reported news about her sister's pregnancies, Kim took a break from blasting the media for reporting false stories and sharing sassy gifs of herself to share the promo for tonight's finale.
She shared the video on Thursday afternoon with the caption,
Season 14 is gonna be wild. Tune in this Sunday!!! #KUWTK
Yup. That sure is Kris Jenner directly addressing Rob's restraining order. Yes, you did see Kim tell Khloé she's having another baby. You're damn right Scott is out of control again.
More than anything, though, fans were hoping to catch some sort of glimpse or news about Khloé and Kylie's reported maybe-babies. All in the same week, reports leaked that both sisters were expecting and somehow we've all hung on long enough to make it to Sunday to see if the rumors are true.
Now, in tonight's episode, all we got is a crazy-*ss proclamation from Kourtney that she feels like she would have another kid with Scott "if the situation was right," and Khloé will have kids with Tristan "in the next seventy years." Thanks guys. Super helpful. WAIT, JUST KIDDING! PLEASE GIVE US LITERALLY ANYTHING!
The convo was briefly glossed over during dinner in Cleveland when the sisters played truth or truth with a group of Tristan's friends and babies popped up in the conversation. Literally nothing was confirmed, and all we gathered is that Khloé Kardashian is in this for the long haul.
DUH. YES. WE KNOW.
More than anything, tonight's premiere focused on little sister Kendall's massive Pepsi commercial scandal and how the family was handling the news that Caitlyn Jenner decided to move forward with gender reassignment surgery.
Kim went to Kendall's side to help comfort her through the commercial fallout, offering some advice and guidance. Kendall was openly distraught, telling Kim,
I genuinely feel like shit. I have no idea how I'm going to bounce back from it.
She added later in a confessional, "I felt so f*cking stupid."
Ooo, Kenny.
Luckily, she isn't the first Kardashian to have a scandal hit the major media waves, nor will she be the last. As a scandal tap-dancing expert, Kim offered the following advice,
This is just gonna be the biggest lesson learned for you... It should affect you in a way where you grow from it, and you're like "OK I'm a better person." ... I wish you could see that there is light at the end of the tunnel.
For now, all we can do is white-knuckle our way through the season until we receive word that more perfect little bundles of Kardashian/Jenner joy are on their way!
*Eye roll*
Check out the entire Gen Why series and other videos on Facebook and the Bustle app across Apple TV, Roku, and Amazon Fire TV.