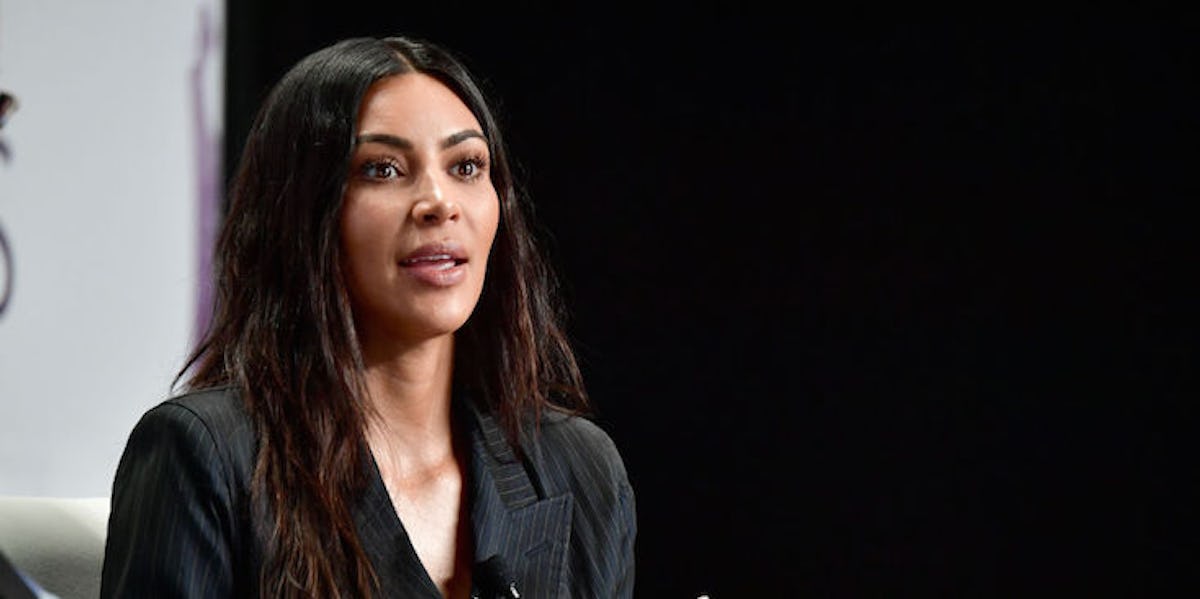 Kim K Calls Out Media Over Her Sisters' Reported Pregnancies: "They Know Nothing"
Dia Dipasupil/Getty Images
By now, you've heard every Kardashian and Jenner under the sun is reportedly fertile and ripe with babies. You name a family member, and there is a three out of five chance that sister is reportedly having a baby. Kim Kardashian is reportedly due to have her third child via surrogate this January. Kylie Jenner is reportedly pregnant with boyfriend Travis Scott's baby girl. And now, rumors that Khloé Kardashian has a bun in the oven with basketball boyfriend Tristan Thompson have risen to the surface. With all that is going on, the margin of error for reporters is pretty high, and Kim Kardashian is calling out the media. Elite Daily reached out to Jenner and Kardashian's teams for comment, but did not hear back by time of publication.
It all began last week on a regular Friday afternoon. It was the end of the work week, and across the globe, the satisfying sound of laptops closing was just beginning. Then, the skies opened up and the heavens sent down news that Kylie Jenner might be having a baby. Cue mass hysteria. It was Sept. 22, and we ballparked it would take the Kardashians 24 to 48 hours to decide how they wanted to respond to the rumors.
And then, there was nothing, minus an extremely confusing and vague response from momager Kris Jenner. Kris Jenner gave the weirdest response of all time while visiting The Cut, saying, "I think it's kind of wild that everyone is just assuming that that's just happening." Whatever that means.
And, of course, we turned to Kim Kardashian next.
Harper's Bazaar ran an article claiming Kim initially had a negative reaction to sister Kylie reportedly being pregnant. A source claimed,
Her [Kim] first reaction was, 'Seriously?' She didn't respond well at first. It's like she and Kanye had gone on this whole journey to get pregnant for months, and now this happens to Kylie. She teared up. It definitely took a lot of time for her to process it.
Uh, 'scuse you? Kim was not having it.
She retweeted the article with the caption, "This sounds like a very fake story." Then, she followed that up with a GIF of herself sipping coke.
Sipping coke is officially the new way to diss someone, BTW.
And her tweets didn't stop there. Us Weekly reported that a rep for Caitlyn Jenner said Jenner knew about Kylie's pregnancy for "some time," and just as recent as this morning alleged that Caitlyn thinks it's a bad time for her daughter to have a child.
Kim had some thoughts about that, too. She tweeted,
And speaking of fake stories... The media is super shady for posting fake quotes from Caitlyn when she hasn't spoke to anyone
AND THEN SHE FLIPPED HER HAIR. Brushing off the BS like...
So, what's the latest? Oh, just that Khloé is also reportedly pregnant with boyfriend Tristan Thompson's baby. Us Weekly, which apparently has a direct line to the Kardashians' posse, claims multiple sources told them that KoKo is expecting.
Still, Kim is clearly not a fan of the media and its confusing stories. In her latest tweets, she wrote two simple posts saying,
Let me just say this...
... People who supposedly work with us "confirming" details they know nothing about! Especially when we havent even communicated with them SMH
Seriously, you guys. She means it.
For now, all we can do is wait. I know, it's the most difficult thing in the entire world. Whatever is going on, we wish health and happiness to all Kardashians and Jenners everywhere!
Check out the entire Gen Why series and other videos on Facebook and the Bustle app across Apple TV, Roku, and Amazon Fire TV.