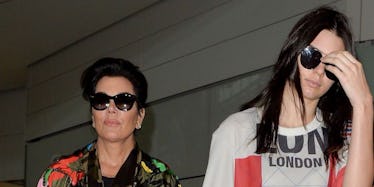 Kendall Jenner 'Feels Terrible' About Pepsi Ad But Kris Is Coming Up With A Plan
REX/Shutterstock
After Kendall Jenner's incredibly tone-deaf commercial for Pepsi caused a ton of outrage, she's taking a break from the spotlight.
In case you somehow missed the ad, which Pepsi pulled shortly after it was released, here it is...
Yes, it does seem like Pepsi is suggesting Kendall and a can of cola can end police brutality and racism.
Jenner came home to Los Angeles from Paris on Friday and is spending most of her time with her supportive family.
A source told People,
Kendall is still not happy about the controversy. She plans on laying low until things calm down. She still talks about it a lot and has support from her family. She is spending a quiet weekend with her family. She has been very upset. She feels terrible. She loves being a model. To get a Pepsi gig was a big deal. She was very excited. She never expected it to receive such backlash. She hopes people understand that she wasn't involved in the creative process.
But don't worry because momager Kris Jenner is formulating a plan...
The source continued,
Kendall loves modeling. She just wants to do a good job. She has no desire to be a part of something controversial. She is very aware of the backlash and [is] not happy. They are coming up with a plan on how to deal with it. She has been talking to [her mother Kris Jenner] about it.
Just exactly what Kris has up her sleeve is still a mystery, but we can certainly hypothesize.
Could she be ordering Pepsi to create another, appropriate ad?
Or will she be running the company to the ground?
Perchance, Jenner has plans to end police brutality and make Kendall the poster child for a whole new world where racism no longer exists?
Most likely, she plans to hunt down every single person who created a meme or mean tweet regarding her daughter... We just don't know for sure, but we wouldn't put anything past a pissed off mom.
Citations: Kendall Jenner Is 'Not Happy' After Pepsi Ad Controversy and Is Laying Low with Family: Source (People)