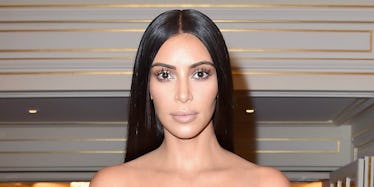 People Are Pissed At Kim Kardashian Because They Think She Used Blackface – UPDATE
Getty Images
Kim Kardashian West is under fire with her fans over a promotional photo for her new beauty line, KKW Beauty, and fans aren't holding back.
UPDATE: On June 19, Kim Kardashian gave The New York Times the following statement about the blackface controversy surrounding her KKW Beauty line promotions: 
I would obviously never want to offend anyone. I used an amazing photographer and a team of people. I was really tan when we shot the images, and it might be that the contrast was off. But I showed the image to many people, to many in the business. No one brought that to our attention. No one mentioned it. Of course, I have the utmost respect for why people might feel the way they did. But we made the necessary changes to that photo and the rest of the photos. We saw the problem, and we adapted and changed right away. Definitely I have learned from it.
EARLIER: In her post, a bronzed Kardashian West is giving some serious face to the camera and her caption is promoting her new highlight and contour kit.
One could argue that due to the nature of the contour products, the photo was produced in such a way to exaggerate shadows and highlights, but some fans on social media certainly do not see it that way.
From the general outcry on Twitter, people are claiming that Kardashian West's picture falls into blackface territory, and that the end result looks like less of a bronzed finish and more of an altered ethnicity.
Elite Daily has reached out to Kardashian West and her team for comment on the photo, but did not hear back by the time of publication.
Others are coming to Kardashian West's defense, saying that it's not her fault, but rather her editors and PR team.
As of now, the original tweet has been reposted after temporarily being taken down. There is not an official reason for this as of yet.
This is not the first time the Kardashians have been accused of cultural appropriation, as complaints have swirled around the family before. Kylie Jenner specifically has been called out for appropriating traditional African-American hairstyles, like cornrows and dreadlocks.
Of course, the concept of "celebrity" is a totally bizarre thing and often attracts backlash.
In the meantime, eyes will be on Kardashian West's newsfeed to see how she handles the latest bout of controversy.