I'm exhausted at just the thought of having to address this. Again.
It's relatively easy to see the Kardashian-Jenner family have built an incredibly solid brand on that thin line between cultural appreciation and appropriation, while stumbling on the racist wayside more often than not. Still, hundreds of millions idolize these women like they're gold-speckled goddesses residing in King's Landing: specifically, Kim, Khloe and Kylie.
Let's take the youngest Jenner, for example.
Right around the time #BlackTwitter's vice grip on #WhiteGirlsDoItBetter went viral, Kylie showcased cornrows for the 'Gram, saying "I woke up like disss." And while that in itself seems largely harmless, her history of flaunting historically black beauty and styles for "likes" impelled 16-year-old young feminist/activist Amandla Stenberg to speak up.
So delightfully ahead of her age, Stenberg blasted the youngest Jenner for not using her "position of power to help black Americans," as well as copying an intrinsically black feature for trend. Kylie, true to form, flaunted her Taylor Swift-white privilege enough to scream victim at the response.
"Mad if I do, mad if I don't," Kylie wrote back. "Go hang with Jaden or something."
The result? Amandla was crucified. Kylie was coddled. And I call bullsh*t.
Unlike the rich heiresses of reality TV, black women aren't afforded the luxury of being blind to race and cultural thievery. We're not allowed to constantly hop on our private jets and selectively loot what we love from other races, physically or otherwise, and leave the rest.
You may ask: How can they be so ignorant to how ballooning their lips with collagen fillers to mirror black women's God-given pouts -- for which we are teased incessantly -- is offensive? Well, they're the same women who believe wearing Arabian garbs for Halloween or Native American headdresses for Kidchella is A-Ok.
Fact: It's cool to be black. But no other race could possibly understand both the burden and beauty of it -- just try asking Sandra Bland's family or learn a quick history lesson on Saartjie Baartman.
Every time Kim & co. put their best faux-black foot forward, they should be aware of the effects their black beauty-wielding ways have on all of us. When it comes to this insensitive sh*t, imitation is not the highest form of flattery. For example, here are three recent moments the Kardashian clan have stolen black culture for fun.
Kylie with dreads and full lips, oh my!
Black women are not only harshly criticized for trivial things like hair choices, no matter how subtle or outrageous, but often also barred from basic things like jobs.
So when Kylie Jenner tried on dreads for a fashion spread -- garnering praise from Guiliana Rancic, the same person who slammed Zendaya for the exact same style -- it predictably drummed up hurtful sentiments surrounding acceptance of black hair.
Same goes for her newly minted lips. Her pout popped up on almost every major publication, inspiring how-to vids and even helped sell out MAC Cosmetics lip liner in Spice. Sure, it took Twitter's #KylieJennerChallenge to understand how ridiculous the faux-pout really is, but black women born with luscious mouths are still overlooked for the same beauty.
That time Kim's ass broke the Internet...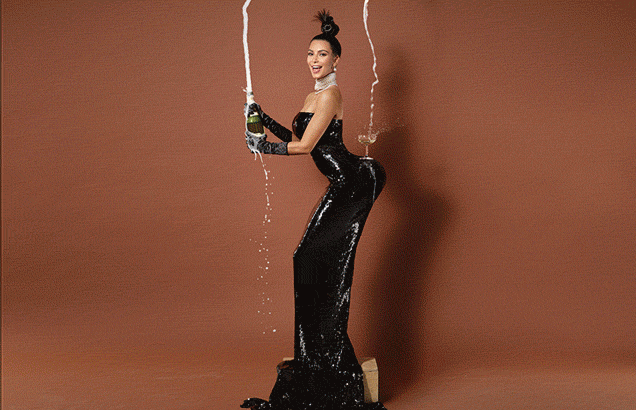 Sex tape aside, Kim K's ass is her most fawned over feature, and she knows it.
Mrs. West purposefully ignited a media circus when she plastered her bodacious backside on the cover of Paper Magazine. But her ability to balance a champagne glass on her tush is so reminiscent of Hottentot Venus, an extremely curvaceous black woman whose body was gawked at for money at freak shows, that her ignorance to black history is almost comical.
So while Nicki Minaj is constantly condemned for her round derriere, a white woman is recreating stains of black history to be celebrated. See the error?
Jokes about the KKK...
I get it: People often try to soften offensive blows with jest, especially when it comes to interracial dating. But when that joke is even more of an insult, it's time to go home. You're drunk.
Case in point: Khloe and her sidekick Scott Disick cracked a Klan joke that read: "THE ONLY KKK TO EVER LET BLACK MEN IN," in reference to the girls' preference in guys. But come on, using a deeply racist organization to laugh off your one-up on black women isn't only offensive, it's juvenile.
That's foul on more levels than Tetris.