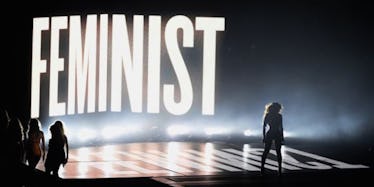 7 Of The Baddest Feminists Every Woman (And Man!) Should Look Up To
If your happy place is the dark space under a rock, you've probably missed the Millennial evolution of feminism.
Today's feminism is a far cry away from the man-hating, bra-burning faction our grandmothers protested for. Now, the fight to equalize women's rights with men comes prepackaged in visual-centric LPs, marries into equal partnerships and boasts empowerment, not entitlement.
Megastars like Beyoncé and Taylor Swift have flung feminism into the pop culture stratosphere, making it almost as trendy as the new Chloé "Drew" bag. Infamous movie quotes and hashtags scatter the Internet, conjuring a movement so vocal it's now seriously calling into question all political, social and economic inequalities between genders.
Sure, the label "can be very extreme," as Queen Bey says. But this modern-day feminism, much like women, comes in all flavors, not scooped from the same Talenti pint.
So, here are seven of the baddest b*tches, real and imaginary, fighting at the forefront of the Women's Rights battle.
Amy Dunne
Forget for a minute that Amy Dunne is a sociopathic psycho killer in Gillian Flynn's novel-turned-cinematic blockbuster "Gone Girl." Despite her psychogenic ills, this femme fatale is one of the most controversial, but necessary, voices of non-traditional feminism.
Seeking revenge on her cheating hubby by faking her disappearance thus destroying his most prized possessions, Dunne strips away the belief feminists have to play nice (see: Taylor Swift).
Girl Power Statement: "'I like strong women.' If he says that to you, he will at some point f*ck someone else. Because 'I like strong women' is code for 'I hate strong women.'"
post up A photo posted by amandla (@amandlastenberg) on Jun 22, 2015 at 9:20pm PDT
This brilliant young actress is a breath of Mentos freshness for a movement often diluted with pseudo-girl power and grand misconceptions.
At 16 years old, the "Hunger Games" star expertly grasps social issues stemming from racism to cultural appropriation, communicating multicultural "new-wave feminism" to a younger audience.
She may very well be unifying black and white youth one empowering power move at a time. And for that? Three-finger salute.
Girl Power Statement: "So unfortunate to see the media pitting women against each other in 2015. Ladies, our love for each other will overcome all trivial nonsense."
Meryl Streep
Why, yes, Hollywood's resident mom spends her days doing more than admiring her three Academy Awards.
The self-proclaimed "rabid, man-eating feminist" has not only fired shots at her gender-bigoted counterparts with Bond-like accuracy, the real-life activist regularly takes on groundbreaking (and ball-busting) female roles like the upcoming film "Suffragette" about the women's right movement in UK.
Girl Power Statement: "Women are so used to that active empathizing with the active protagonist of a male-driven plot. That's what we've done all our lives."
Pharrell
Although having a penis disqualifies men from many a girls-only party, it doesn't ban them from being female empowerment freaks. Skateboard P knows.
The "G I R L" artist penned an entire opus about his affinity for women, forcing him to resign to the idea of being one of us.
Girl Power Statement: "If I'm allowed to be; if feminism is a synonym for equality, then, yeah, sure."
Peggy Olson
If being a supreme feminist is a climb, Olson is Ashima Shiraishi.
Arguably the most important character in the f*ckboy cesspool that is "Mad Men," Peggy transitions from Don Draper's apologetic secretary to the first female writer of the fictional agency.
Ambitiously, she bears the brunt of Don's male insecurities, manifesting a self-aware swan that demands respect and even fear.
Any woman not just surviving but flourishing in a male-shark-devour-female-shark world gets a thumbs up from the females.
Girl Power Statement: "Why is it that every time a man takes you out to lunch around here, you're the dessert!"
Willow Smith
Will and Jada's only daughter has been at the center of several heated debates, while scribbling her eccentric mark on pop culture, Lisa-Frank style.
Using her apparel to express her social positioning, this particular statement-making 14-year-old donned an "Audre & Gloria & Angela & bell" tee and later made headlines after joining the #FreeTheNipple trend.
Girl Power Statement: "I think that the reason why girls' confidence falls during adolescence is because of [popular] music. It's all about boobs and butts. That's what they're growing! ...So when they think of themselves and what's happening to them, it automatically, subconsciously makes them realize that rappers [and other men] are disrespecting them."
Jazz Jennings
In recent years, trans women like Laverne Cox have flooded mainstream media, creating both an inescapable awareness of their unique journey and warm acceptance of them as fellow pillars in feminism. Jennings is no exception.
At just 14, Jazz — who was born male and transitioned with the help of her parents in preschool — co-authored an autobiographical picture book for kids. She also lends her voice to a Clean & Clear campaign, actively encouraging all teens to stay true to who they are, whomever that may be.
Stay tuned for an 11-part TLC television series entitled "All That Jazz" to premiere July 15.
Girl Power Statement: "Stay strong and keep moving forward."