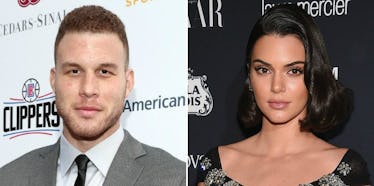 Kendall Jenner Spotted On Date Night With Blake Griffin & There Are Pics
Getty Images/ Rich Polk, Dimitrios Kambouris
Kendall Jenner has been running New York Fashion Week. She's walked in some of the most talked about shows (hello, Tom Ford) and still has time to grab dinner with a potential new boyfriend... or luh-ver? Kenny was seen out in NYC with a certain basketball player that we all love to obsess over. This leads to the question: Are Kendall Jenner and Blake Griffin dating? Elite Daily reached out to Kendall Jenner's team for comment, but did not hear back by the time of publication. Here's what we know.
If you're as sports savvy as me (go sports!) then you have no idea who the hell Blake Griffin is. He is a power forward for the Los Angeles Clippers... that's a basketball team, people! According to NBA.com, Griffin is from Oklahoma, he is 6 feet 9 inches tall, and is 28 years old — these are the stats I care about. He's played in the NBA for seven years, and apparently can jump really, really high. However, he's made headlines in my pop-culture-obsessed world because he's hunky and has a great sense of humor that's landed him in many advertisements and a Sacha Baron Cohen movie.
It's no surprise that a hot athlete could score a date with an equally hot model. I'm still trying to decide how serious these two are. Here are the facts:
Griffin and Jenner wore matching white sneakers. Coincidence or boyfriend-girlfriend stuff?
Jenner wore an oversized sweater dress. Either she was tired of wearing uncomfortable clothes for fashion week or this is an outfit she wears on a casual outing (maybe with a friend). There's nothing wrong with being comfortable and Kenny looks gorg in everything, but it's just not the normal, super-sexy Kendall Jenner look we're all used to.
The two have actually been spotted all over the place during the past couple of weeks. Jenner and Griffin looked extremely tropical together in Malibu. E! News also reported that Blake Griffin, Kendall Jenner, Hailey Baldwin, and Chandler Parsons of the Memphis Grizzlies went on a double-date in Los Angeles. Although there was reportedly no PDA, Griffin did put his arm around Jenner at one point in the evening. Scandalous.
They also hung out with this awesome sneezing guy who is more relatable than Kendall Jenner will ever be.
This could-be couple is a bit surprising. According to US Weekly, Griffin split from his fiancé, Brynn Cameron, in July. The two share a 4-year-old son, Ford, and 1-year-old daughter, Finley. A source told US Weekly that the couple ended things on good terms, and it seems that Griffin is ready to get back out there. As for dating Kendall Jenner, the source said,
Kendall and Blake are seeing each other. They have been hanging out a lot and are having fun together. It's a little early to call them boyfriend and girlfriend. Kendall won't settle down soon — she's busy and likes her freedom.
I can definitely see that. Unlike her famous sisters, Jenner has never come clean about having an exclusive relationship. She doesn't openly flaunt her life on social media — especially her dating life. It's been strongly assumed for most of 2017 that Kendall Jenner has been dating rapper, A$AP Rocky.
The two have been seen (quite literally) all over the country together with their hands (again, quite literally) all over each other.
A$AP Rocky (aka Rakim Myers) and Jenner stirred up such strong rumors that fans began wondering if we would see them together on Keeping Up With The Kardashians. The answer — hard no. A source told Hollywood Life,
They're both committed to keeping their relationship private, and out of the media spotlight. It's also unlikely that cameras will catch them engaging in any kind of PDA — that is if they can spot the cameras in time.
Whatever is going on with Rocky and Jenner, it looks like they're not exclusive. Same goes with Jenner and Griffin. I don't see this as a love triangle — it actually seems like Jenner is just doing her thing and living life.
I hope Kendall Jenner is having a great time dating. With her busy career, I don't see her getting ready to settle any time soon. Do you, Kenny.