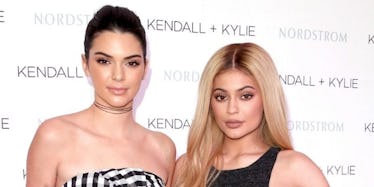 Kylie Jenner Addresses Bizarre Rumor She Shares Underwear With Kendall Jenner
Getty Images/Frederick M. Brown
Being a member of the Kardashian-Jenner clan cannot be easy. Besides always wearing uncomfortable clothing, people are constantly analyzing (and over-analyzing) literally everything they do and say. It's no surprise that weird — and probably untrue — rumors get spread around all the time. The latest: Do Kylie and Kendall Jenner share underwear? There have been tons of articles circulating around that claim the two youngest members of the family share their unmentionables. Seriously, the weirdest. It's so odd, it's kind of hilarious. If they do or don't share underwear — that's none of my business nor do I really care.
It looks like Kylie feels the same way. The starlet, who keeps it very real on social media, actually responded to these rumors. She said in a tweet on Aug. 29,
Seeing some articles stating that kendall and I enjoy sharing underwear. Now THIS has to be the weirdest rumor I've heard yet! LOL
Kylie doesn't really publicly respond to rumors (especially silly ones) super often. So this one must've been just absurd enough for her to shed some light on. It seems her fans are with her on this one. Most of the responses were hilarious GIFs of fan's reactions when they read about the underwear sharing.
Although the internet can be ridiculous, people had pretty normal responses to the whole thing.
So, how did this bizarre rumor even begin? It was actually fueled by something Kylie said during a promo for Life of Kylie. Teen Vogue reported that she said,
I let [Kendall] borrow whatever she wants ... [Kendall] always comes through and is like, 'I need an outfit please,' and I'll let her borrow whatever. And then I go over there, and I'm like, 'Kendall, I need a pair of sweats to go home.' And she'll give me the most uncomfortable old underwear, the worst sweats you've ever seen, and anything that's so bad and old and small. And I'm like, 'You're so mean.'
Do I really think Kendall is giving her sister old, ratty underwear to wear home? No. Do I think Kendall Jenner actually owns old, ratty underwear? Also, no. I'm assuming Kylie added the "old underwear" for dramatic purposes. Whatever the reason, obviously it's not true because Kylie shut it down herself.
Welp, now we all know the truth. I hope this serves as a lesson for all of you: Next time you want to go around spreading underwear sharing rumors — think again!