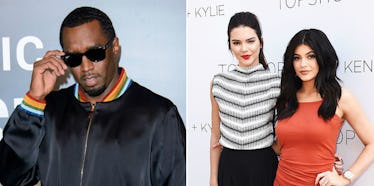 Diddy Threw Shade At Kendall And Kylie Jenner Again And Fans Are Calling Him Out
Joe Maher/Getty Images and Jason Merritt/Getty Images
Diddy, what is your problem, bro?
Forbes' richest man of the year can't stop throwing shade at Kendall and Kylie Jenner and fans are not having it.
Noticeably photoshopping the famous sisters out of a star-studded selfie at the Met Gala this past year, Diddy consequently started the famous hashtag #diddycrop, igniting an ongoing Jenner/Diddy shade series.
Kylie posted the original photo from the Met Gala, showing herself, sister Kendall and their middle fingers, along with Diddy and a motley crew – to which Diddy responded with a big ol', "Nah."
He then savagely cropped them out and captioned the photo, "#blackexcellence."
Now, maybe looking to make amends with Ken-Ken and Ky-Ky, Diddy posted a new photo with the older Jenner sister featuring one, tiny, teeny, almost-not-even-a-big-deal-if-it-weren't-already-for-the-whole-#diddycrop-thing, mistake.
Diddy tagged Kendall Jenner as Kylie.
No, Diddy! Bad, Diddy!
He captioned the photo, "Last night @kyliejenner #cantstopwontstop #aboutlastnight."
Diddy, WHAT'S YOUR BEEF?!
We get it. For some reason, you are very, very, very rich, but that doesn't excuse you for not knowing the Kardashian/Jenner family! They're in charge of the whole world!
The photo was taken at Diddy's documentary Can't Stop, Won't Stop premiere, which follows the history and fame of his Bad Boy Records label. Kendall was one of the many celebrities in attendance, including other folks like Dr. Dre, Snoop Dogg, and the one and only Madonna.
Arguably, he could have just been distracted by his big night, but still.
Fans and followers left comments on his mistake saying things like, "SAVAGE," "LMAOOOOOO," "DEDDDDD. Legend," and my personal favorite, "He know damn well he tagged the wrong one on purpose."
Diddy posted a follow up message in the comments section writing, "I'm human people. I make mistakes. Sorry."
Mmm... are you though, Puff? Are you?
For Kendall's part, she appears to have no hard feelings. Maybe that's because she's, I don't know, the best?
Make it right, Diddy!